Mustang Region : The hidden kingdom of Nepal
March 19, 2017 admin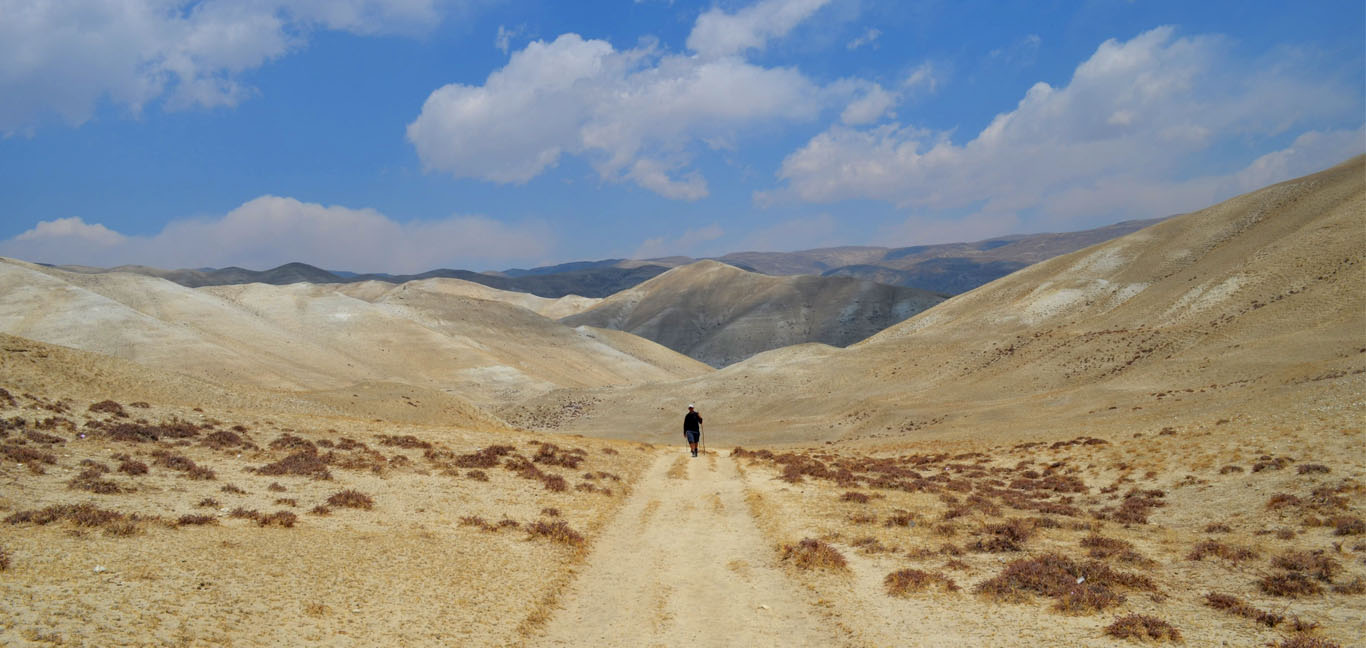 'adventure on an extension of world largest and highest picturesque Tibetan plateau'
Highlights of Mustang Region:
"Mustang truly a photographic paradise with its picturesque scenery of unique landscapes
Located on an extension of vast and highest Tibetan plateau with arid and dry terrain
Beautiful colored eroded canyons and hills dotted with caves within its scenic country
A land of age old history from past 1380 AD to present with former king of 25 generations back
On an ancient Trans-Himalayan Salt Trade / Caravan Route of Nepal-India and Tibet which still exists
Fascinating cultural villages with old interesting Buddhist monasteries and ancient Bon-pa custom
Daily views of high snow capped peaks and dramatic landscapes during walks within Mustang region
From apple pie trail to once forbidden walled city of Lo-Manthang around Upper Mustang"
Introduction to Mustang Region:
Mustang region remote and isolated, a country completely out of this world with its moon scapes landscapes, placed on world highest and largest an extension of South Western Tibet plateau with its dramatic windswept terrain located Far North Western Nepal Himalayan region.
Mustang region a land within complete wilderness of arid-barren and dry windswept country of great and unique contrast with its towering snowcapped peaks that lines the northern east and western border linking with Tibet, Nar / Phu with Dhaulagiri massive mountain range and towards Dolpo areas.
Beside its beautiful scenic landscapes of canyon, weather beaten red and brown colored eroded cliffs with snowcapped mountains of Mustang Himal includes Bhirkuti and Damodar mountain range including Nilgiris and Dhaulagiri which is at close distance, where culture and traditions with its ancient historical background is equally fascinating specially the long prayer wall lined with prayer wheels and Buddhist inscriptions, visit of old monasteries of Tsarang and four main monasteries of Lo Manthang Namgyal Gompa, Champa Lakhang (God House), Red Thubchen Gompa, Chyodi Gompa and the great Entrance Hall.Where advance permission required entering king's palace and a visit to its interior of the old palace to grant audience with former royal and Raja of Mustang if possible.
Far Western Nepal Himalayan villages around Dolpo and Mustang region still practices Bonpa sect of pre-Buddhism worshipping nature spirits and surrounding pristine environment, as well Tibetan Buddhism religion with similar culture, custom and traditional way of daily life.
Due to its arid and dry terrain green vegetations and tree lines are limited, where poplars, juniper and willow trees survives with green agriculture fields of barley-wheat-mustard-buck wheat and potatoes are grown with other vegetables cabbage, spinach and potatoes.
The main highlight of Upper Mustang is visit of walled former kingdom of Lo-Manthang, once it was a forbidden country, since late 1980's it opened up its doors for outside visitors to see its ancient treasures and old culture as it was sine past hundred of centuries.
Mustang is the old kingdom of Lo. Actually the main hub of Mustang regional district is at Jomsom, but the real Tibetan style district situated north of Kagbeni usually referred to as Upper Mustang.
One of the most fascinating features of Mustang is literally thousands of cliff dwellings, some of which look completely inaccessible. The most recent theory is that they may date 8-10,000 BC when Mustang was a much greener land.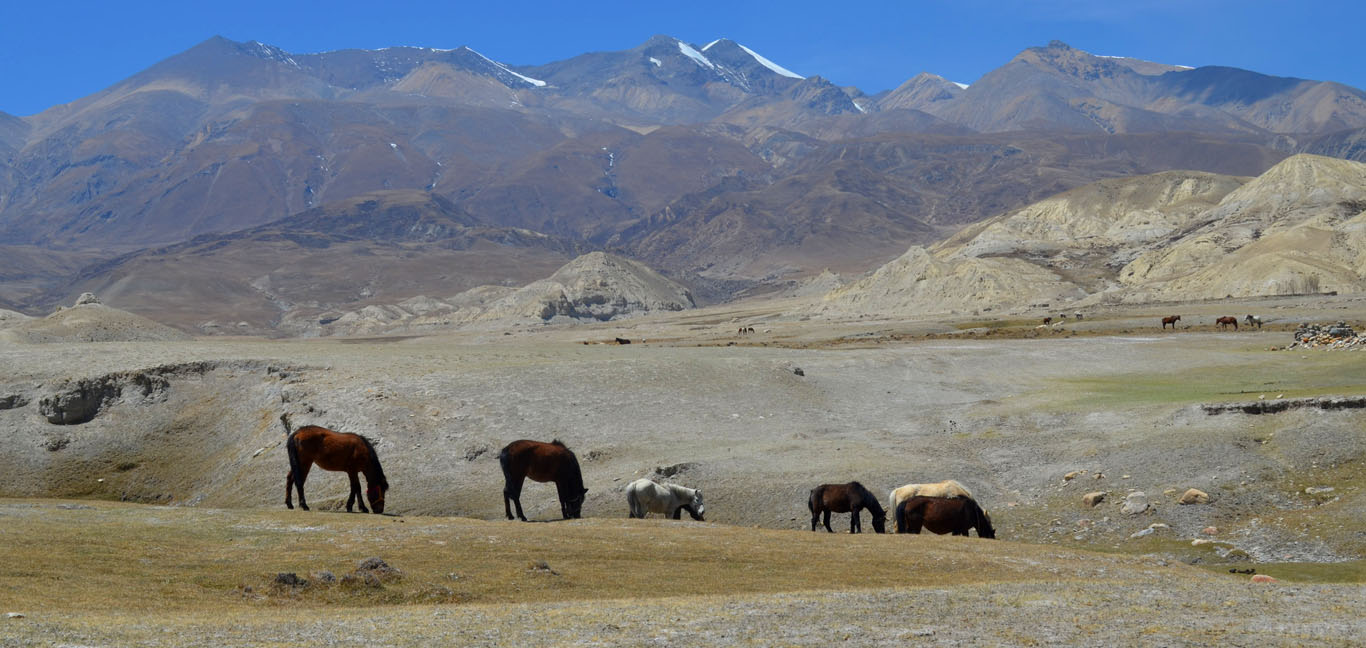 Naturally, most of the history is now a matter of legend rather than recorded fact, but it seems clear that Lo was once part of Ngari, part of Tibet and a rather loose collection of feudal domains. It was incorporated into the Tibetan Empire under the most famous of the Tibetan kings Songtsen Gampo.
It was an important means of crossing the Himalaya from Tibet to Nepal, and many of the old salt caravans passed through Mustang.
It became an independent kingdom on its own right, under Ame Pal founder king of Lo in 1380. The present royal family can trace its history 25 generations back to Ame Pal, and the city of Lomanthang, which is well worth a visit, was the centre of their power.
Mustang region covers Upper and Lower Mustang where the lower side are much greener with tree lines around Kaligandaki river valley, a famous trekking destinations that connects the great Annapurna circuit and to Dhaulagiri and Dolpo region, the Kaligandaki route known as the Apple Pie Trail due to its delicious varieties of apples grown with wide range of products, the other areas of Mustang extends all the way to holy Mustang Temple area, a famous and historical spot where hundreds of pilgrims visits and bathes on 108 water spouts and a prayer in Mustang Temple which means Liberty or Nirvana.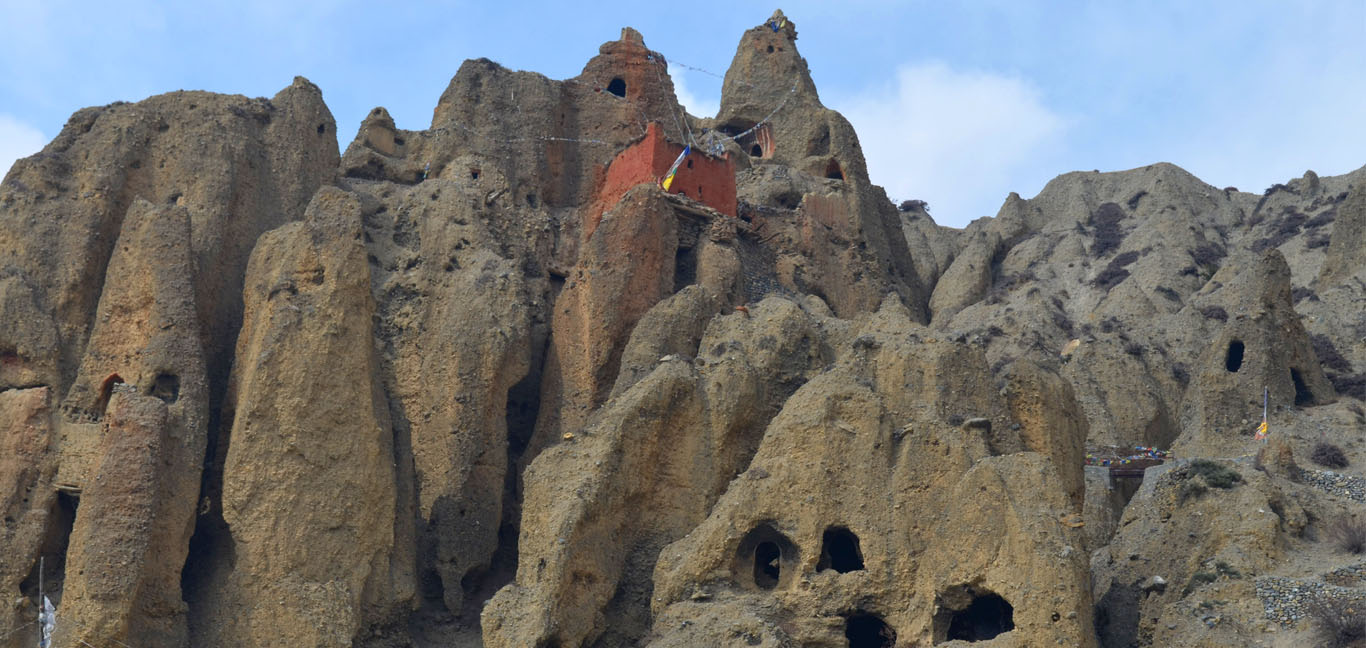 Mustang area at present can be visited with an overland drive to Jomsom and Kagbeni beyond or walk from Ghorepani and Beni on the apple pie trail along Kaligandaki river visiting lovely villages of Kalapani-Tukuche-Marpha and Jomsom.
To make the journey for accessible and short taking a sweeping short flight to Jomsom town from Pokhara and then onward towards Upper Mustang and its beautiful wilderness.
Upper Mustang Trekking requires special permit to enter from Kagbeni onward where you can trek and travel in the comfort of nice local lodges with friendly and cheerful hospitality of Mustang people.