Annapurna Panorama Trekking
December 14, 2017 admin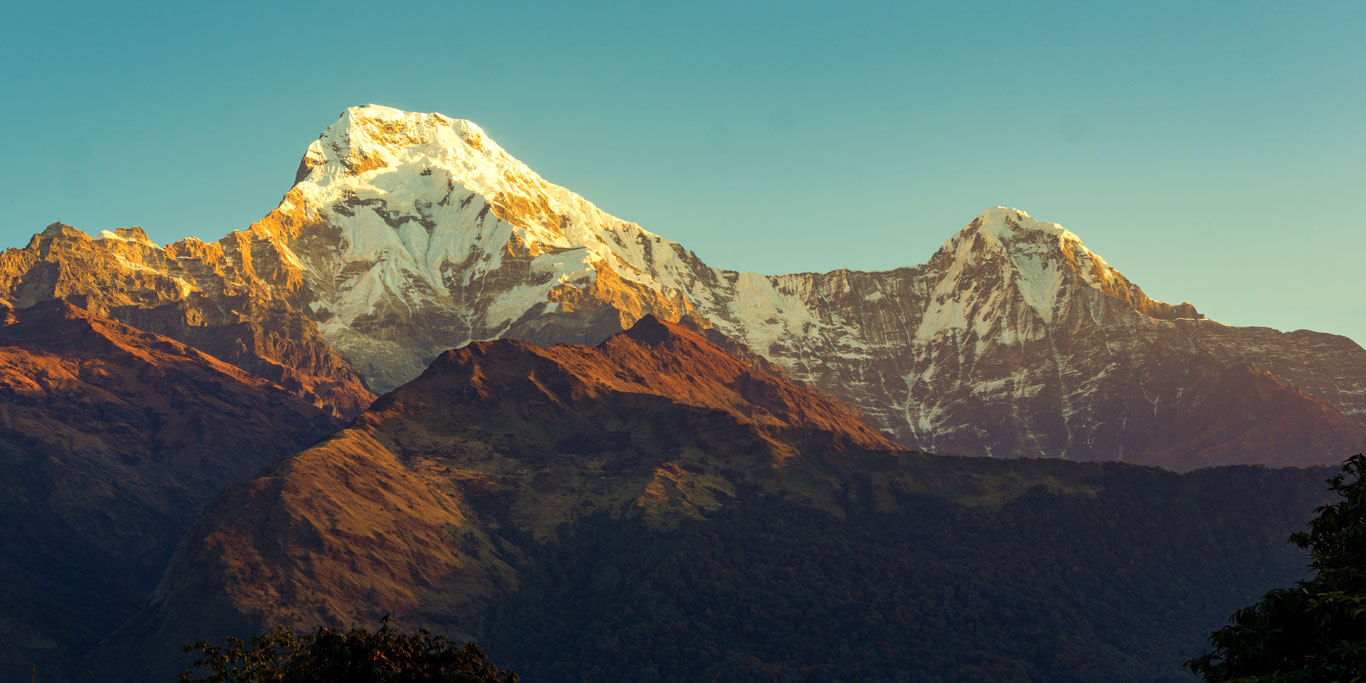 'short moderate adventure on green hills of Annapurna with Ghorepani and scenic Poon Hill'
Annapurna Panorama Trekking (simply known by the name of Poonhill Trekking)presents you with an awesome panorama of world's three highest Eight Thousanders Mountains 7th highest Mt. Dhaulagiri 8,167 m – 8th highest Mt. Manaslu 8,163 m and tenth highest Mt. Annapurna I at 8,091 m high with arrays of smaller peaks including majestic Machhapuchare Himal 'Fish Tail' the unclimbed virgin peak.
Certainly a great walking journey on the mid and high hills of Annapurna Himalaya where trek leads you from warm areas of paddy fields and terrace to cooler alpine zone covered within dense vegetation with tall rhododendron (national flower of Nepal), magnolia, pines, oaks and fir tree lines.
The areas around Ghorepani and Poon Hill regarded as world's natural garden filled with rhododendron forest, in spring times the alive are alive with riots of colors from blooming rhododendron and other wild alpine flowers, turning the areas into a magical garden.
Annapurna Panorama Trekking leads you to fascinating walks with daily views of high snow-clad peaks of Annapurna Himalaya in the harmony of traditional and cultural villages of Gurung and Poon / Magar hill tribes of immense interest to witness.
Trekking of moderate grade with ups and downhill walks leading you from the outskirt of famous and touristic Pokhara city, blessed with mountains-rolling green hills and a verdant valley where the reflection of Annapurna Himalaya reflects on its calm Phewa and Begnas lakes.
Walk leads you with a short drive to reach a starting point of the walk at a busy Nayapul town and then to lovely Bhirethati village, from here following the age-old legendary Trans-Himalayan Salt Trade Route of Nepal / Tibet which leads to Ghorepani and beyond Mustang areas to reach the border into Tibet.
As trek progress leading to a climb uphill to Tikhedhunga-Ulleri and Bhanthati village with views of dramatic landscapes and peaks and within green forest reaching cooler alpine areas at Ghorepani village, where houses serving as lodge painted blue in the midst of rhododendron forest with views of Dhaulagiri and Annapurna peaks.
Ghorepani located on high hills at 2,874 m / 9,484 ft high at the base of famous viewpoint Poon Hill which is above 3,210 m / 10,593 ft where next early morning an hour hike reaches you on this scenic top.
Next, early morning climb up to Poon Hill to catch stunning sunrise views over an array of peaks of Dhaulagiri-Tuckuche-Nilgiri-Annapurna Fang (Vara Shikar) with the range of Annapurna peaks with majestic Machhapuchare Himal towards Lamjung and Manaslu Himalaya range of mountains.
With grand moment walk back to Pokhara via an alternative another scenic route past enchanting woodland to Tadapani and Ghandruk village towards road head for a short drive back to Pokhara and beyond at Kathmandu, after a mesmerizing and enjoyable walk on Annapurna  Panorama trekking.
This is a short moderate trek where all types of interested people can join in for 5 to 6 days of scenic and cultural walks, the best time all around the year except monsoon wet months of July to mid-September.
Poon Hill Trekking Teaser
Outline Itinerary for Annapurna Panorama Trekking:
Day 01:          Kathmandu to Pokhara 950m (30 mins flight / 6 hrs drive)
Day 02:         Drive to Nayapul 1,100m and trek to Tikhedhunga 1,450m.
Day 03:         Trek to Ghorepani 2,874m – 05 hrs.
Day 04:         Morning hike to Poon-Hill and trek back  to Nayapul 1,100m –  06(to 07) hrs and drive to Pokhara
Day 05:         Pokhara Rest Day
Day 06:         Pokhara to Kathmandu (30 mins flight / 6 hrs drive)
Any help needed? Never hesitate to contact us!!