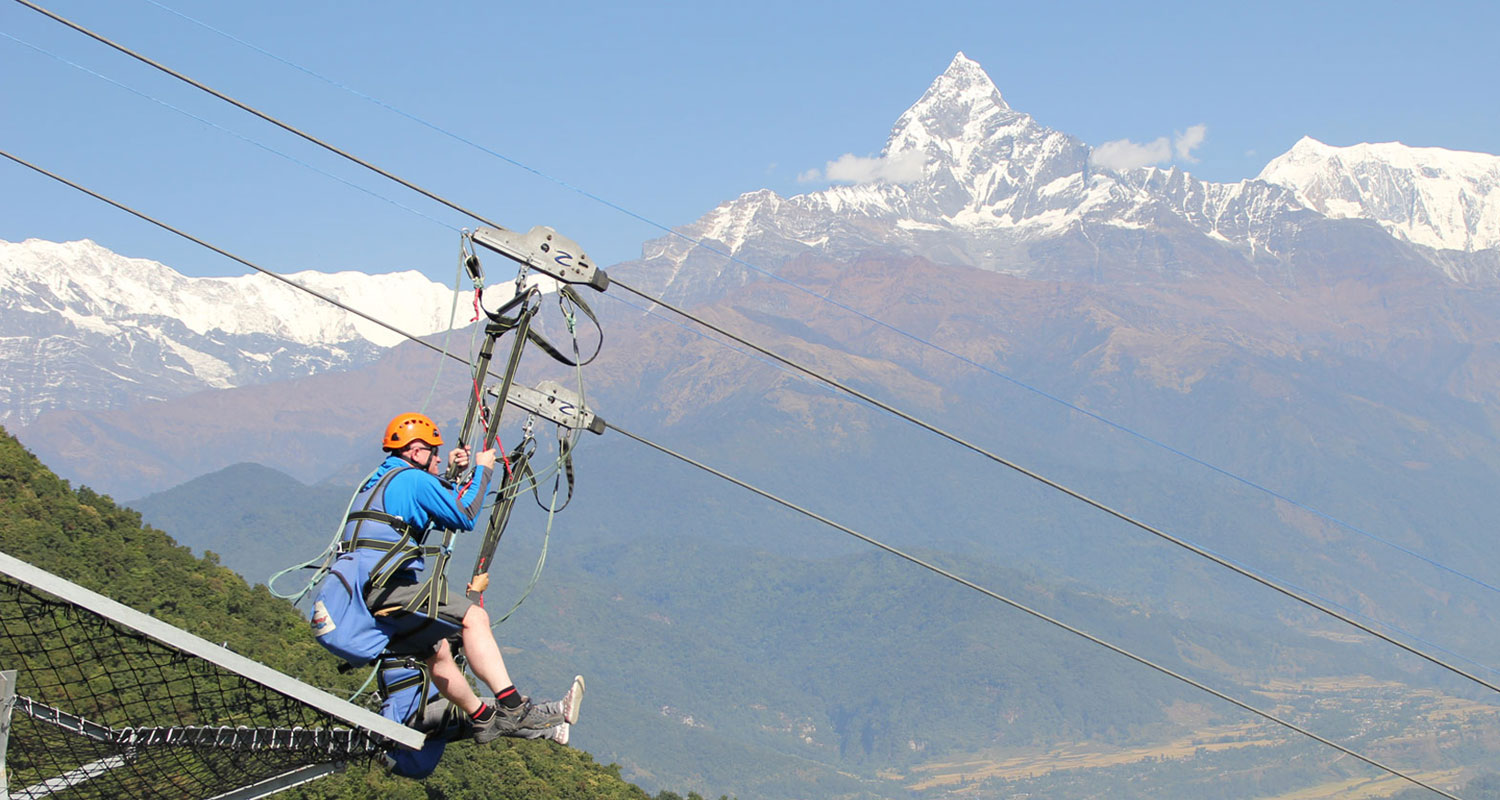 Zip Flying in Nepal
Hold on tight! You are about to experience a steep and fast paced descent from a hill at a speed close to 100 miles per hour on a zip line. As the countdown of 5, 4, 3, 2, 1 goes, the gravity does the rest and takes you speedily like a bird and you are like…with mouth open and screaming with excitement in an adrenaline rush like never before. This is how the experience of zip flying feels like as described by the adventure seekers who have gone through this experience. This adventure is basically a fast paced descent on a pulley suspended on a cable that is mounted on a slope and takes user to the landing destination propelled by gravity to travel from top to bottom. Traditionally used for transportation in remote mountainous regions, zip lines are nowadays a popular adventure sport.
History of Zip Flying
The current sports of Zip Flying has its root in the zip-wire, traditionally used in some mountainous nation as a means of transportation for several years. In some remote areas in China such as Nujiang valley and several hilly areas of Nepal, these zip lines has served the purpose of bridges across rivers which have mostly been replaced by real bridges. Fatality occurred in 1739 when Robert Cadman, a steeplejack and rope slider, died while descending from Shrewsbury's St Mary's Church when his rope snapped. Australian outback used zip lines for delivering food and tools while Nepalese in some rural areas still use it for purpose of transportation and sometimes crossing rivers.
The first use of modern zip line was by Alberto Santos-Dumont in 1906 when he attached his biplane to the wire to test it before flying it under its own power. In 1992 the movie named Medicine Man popularized it as a sport using zip-lines to catch amazing shots.
Zip Flying in Nepal
Zip Flying in Nepal has been in operation since June 2, 2012 though the official launch was made later on October 8, 2012. The adventure of zip flying in Nepal has the world record of being the world's longest, steepest and fastest zip-line to give the ultimate adventure experience to the users or adventure seekers. The starting place for zip flying is the hill of Sarankot (1625m) and the ending point is the village of Hemja (960m) amidst the area of Tibetan refugee settlement. The longest zip flying in the world, this adventure has 1860 meters long zip line and almost 2000 feet (610m) of vertical drop and covering a distance of 1.8 kilometers. The speed reaches up to 100 mph from a platform overlooking the Himalayas of Annapurna Peak, Mahhapuchhre Peak, the valley of Pokhara, Seti River and over dense forests through which serpentine river passes through.
Rising Popularity
Though with an old history, zip flying is getting popularity as a sport in recent years. As mentioned earlier this was popularized worldwide as an adventure sports by the movie Medicine Man in 1992. In Nepal High Ground Adventure started this adventurous activity in 2012 and since then the number of adventure seekers taking this newer form of adventure has been rising trend. Though the sports of Zip flying has been less heard by Nepalese adventure seekers, foreigners are going for this more frequently. Trekkers and other adventure seekers who are stationed in Pokhara go for zip flying before taking on the trekking in Annapurna region.
Thus, we can say that the sport of zip flying in Nepal, that uses state-of-the-art security system with the standard set by agencies such as ANSI-B77 Tramway and others, is a newer form of adventure sports and has other facilities such as view deck, Illy café, and souvenir shops among others. Challenge yourself further with this sports full adrenaline rush, excitement and enthralling experience.