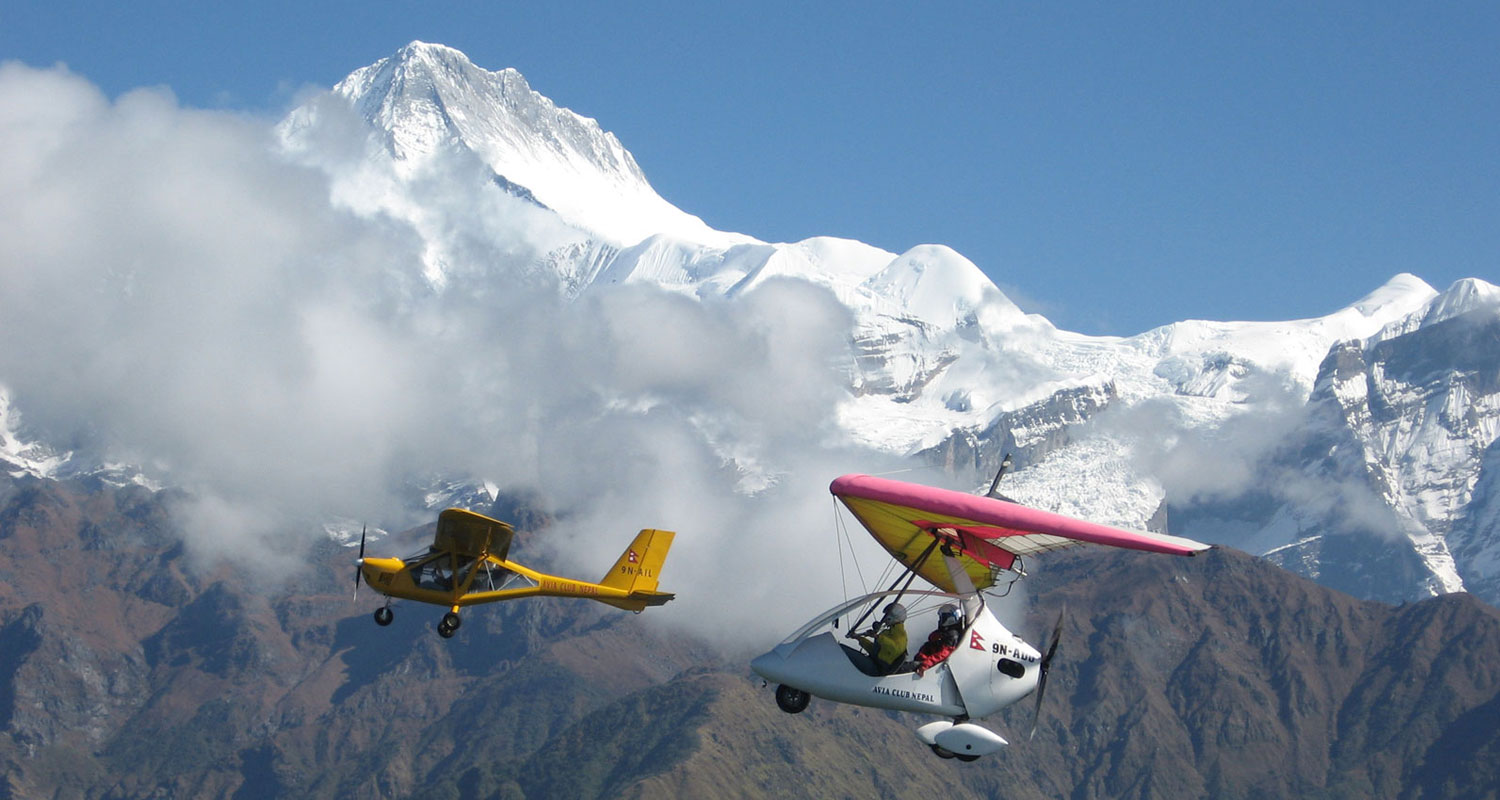 Ultra Light Flight in Nepal
Soaring high in the sky bathing among the clouds like a bird and having a bird-eye view of the landscape and other surrounding sounds a great experience right? Well nothing describes this adventurous activity better than firsthand experience. With only a pilot flying a lightweight, fixed-wing aircraft having the capacity of 90 liters of fuel capacity and maximum speed of 130 km/hr and average speed of about 80 km/hr in general. Basically a recreational aircraft or a light sport aircraft, Ultra light flight has been popular as the adventure sport which provides the adventure seekers with recreational cum adventurous flight.
Choosing an Ultra Light Flight in Nepal
The benefit of choosing an ultra light flight in Nepal has more than one advantage to cherish upon. Adventure seekers have the advantage of exploring the sky of Nepal's Lake City of Pokhara, besides leaving the worries behind in the ground and fly to the heights, play hide and seek with the clouds and reach out for the close up view of the mountains.
The magic of mountains, meandering rivers and the enchanting beauty of valley gives the adventurers an impressive feeling and thrill of adventure. With well trained ultra light pilots and safety measures, this airborne adventure sporting activity is as safe in Nepal as it is elsewhere. Several companies offer the services to the clients following the guidelines set by the Civil Aviation Authority of Nepal and hence have a very less incident of mishaps.
Pokhara is the chief destination for ultra light flight in Nepal. There are some reasons behind this which includes the proximity of snow capped mountains and beautiful lakes which make a stunning landscape for the sight. Another reason is the climatic condition which makes the adventurers a comfortable experience during the season of ultra light flight.
Ultra Light Packages offered
The companies offering Ultra Light flight to the adventure seekers offer generally four packages to the adventure seekers.
Short flight of 15minutes is the shortest flight package offered by the companies. This comprises of flight over the beautiful city of Pokhara, the lakes of Phewa, the panoramic view of Annapurna range and view of Dhaulagiri peak in the distance as well as the flight around the Sarankot hill and over the Peace Pagoda near the Phewa Lake. The maximum height attained is 5000 feet.
The next package offered is the 30 minute flight which takes the adventurers slightly higher and further. Flight shall be as far as the settlement of Lamachaur on the northern part of the