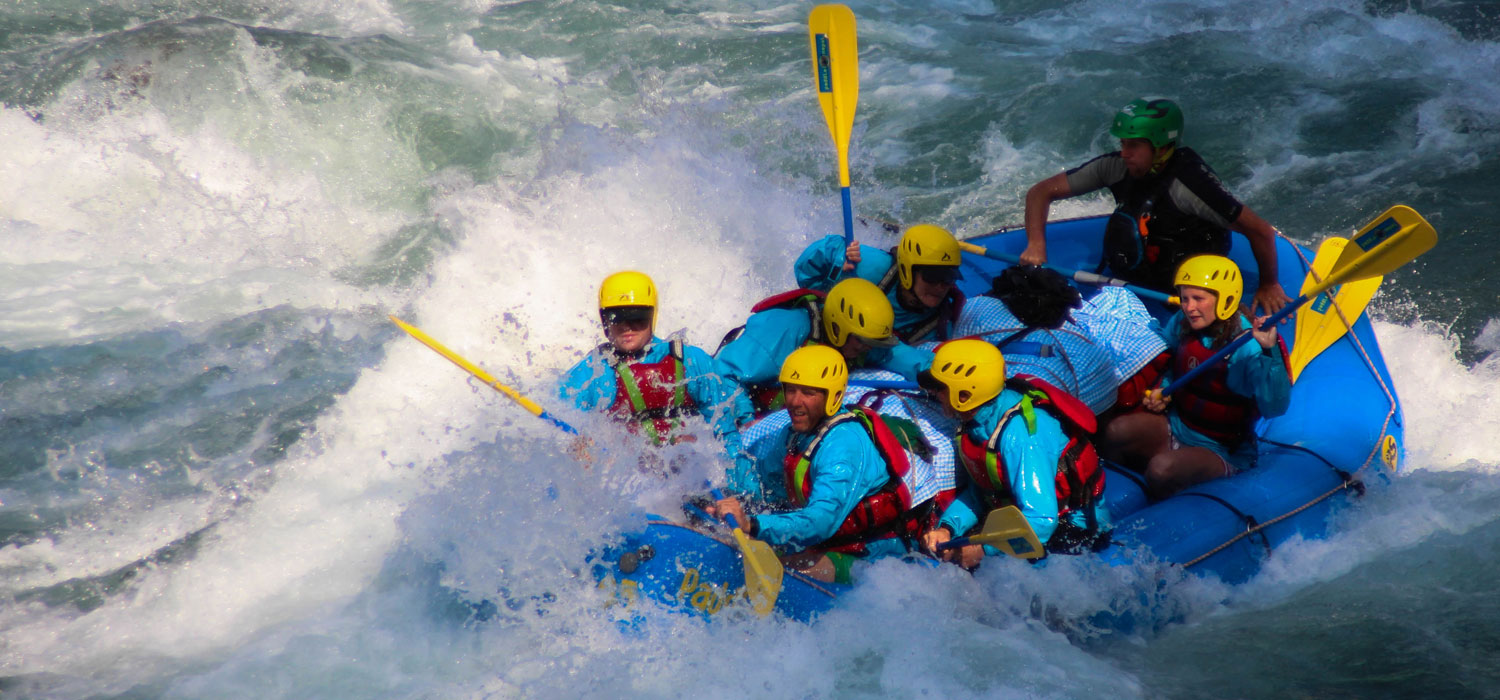 Rafting in Nepal
Besides the cloud-piercing Himalayas, Nepal is home to some world class rapids where you can have the adventures of your life. Yes, it's the Rafting and more specifically the white water rafting in Nepal. Rafting is basically an outdoor recreational activity with the blend of adventure where the sailors use an inflated raft to navigate a river or other body of water. Often done on white water, the difficulty of rafting depends on the waves, hazards, maneuvering skills required and impact on the rafting equipments. If you miss this adventure in rivers of Nepal, you will be missing out one of the world's best river experience.
Classes of white water rafting
Also the scale of river difficulty, this categorization ranges from simple to very dangerous and potential death or serious injuries.
Class 1: Small rough areas, very basic skill required, might require slight maneuvering
Class 2: Some rough areas and rocks, require some navigational and basic paddling skill
Class 3: Whitewater, small waves, no major danger, significant navigational skill
Class 4: Whitewater, Medium waves, rocks and considerable drop possible, sharp maneuvers may be needed
Class 5: Whitewater, large waves, large volume, possibility of large rocks, large drops and hazards, precise navigational skill needed
Class 6: Very rapid and dangerous, substantial whitewater and huge waves, huge rocks and /or substantial drops, increased likelihood of serious injury or even death at extreme cases compared to other classes
Rafting Seasons in Nepal
Rafting in Nepal can be done throughout the year in Nepal. However, the seasonal variation in temperature and rainfall has an impact on the water level of the river and thereby determine the suitability of a particular river in a season.
While Autumn has stable weather, high water level, fast flowing rivers and warm sediment laden rivers, Winter has moderate water, lower temperature and requirement of wet-suits may be there besides stable high pressure. Variable weather with clear mornings and rainy afternoons may be seen in Spring besides low water levels and cool temperature and Monsoon has low pressure with frequent showers and storms with fast flowing and sediment laden rivers.
Best Rivers for (Whitewater) Rafting in Nepal
Rated as 'World's Best River Rafting Trip' by Lonely Planet, Sun Koshi River is the best preferred rafting destination providing the experience with spectacular sceneries, adventurous waves and rapids, sand beaches and campsites. Dolalghat is the starting point of this multiday rafting and Chatara is the end. It is a 3-5 class river.
Trishuli River is a class 3 level river and the most popular one due to its proximity to Kathmandu and Pokhara besides its suitability for the beginners as well. Marvelous gorges, exciting waves and comfortable sections make this raft an attractive option. Bhote Koshi River is another popular rafting river near to the Kathmandu valley that takes you across gorges, valleys and Himalayan sceneries along with excitement at highest level. Kaligandaki River, graded as class 3-4, consists of deepest gorge of the world, cultural views throughout the trip and is more continuous than the Trishuli River. Seti River, a 2-3 class river, is another river popular for rafting characterized by smooth and warm whitewater, suitable for family rafting and for kayaking to beginners. Karnali, Marsyangdi and Tamor river are other popular rafting rivers in Nepal.
So, feel the thrill in one of the best rivers in the world suitable for rafting. From camping to maneuvering and from fight with the rapids to adrenaline rushes in the drops during the rafting, everything that you encounter shall provide immense excitement, adventure and thrill.