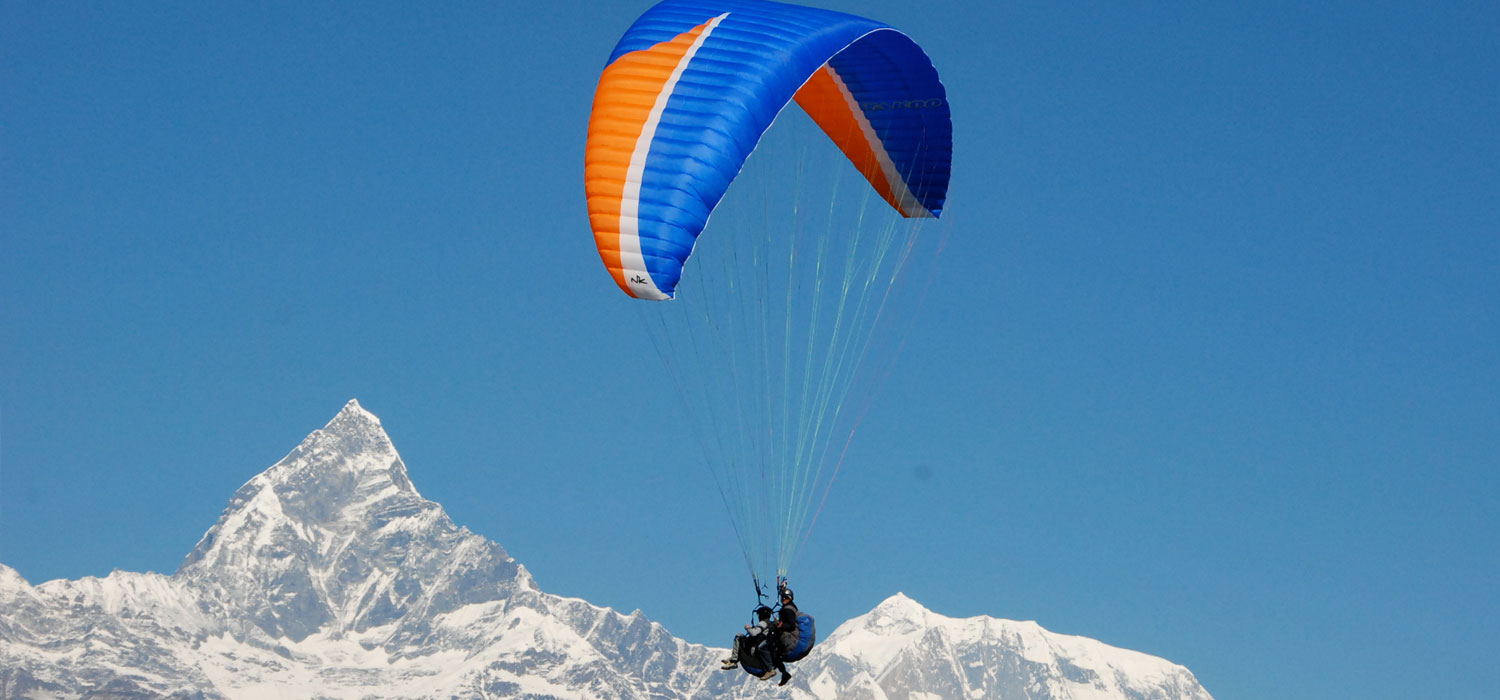 Paragliding
Ever painted a picture of yourself flying up in the sky like a bird and feel the freedom, experience the air with your eyes closed while you are floating between the endless, blue sky and the mother earth? If you ever had such thought crossing your mind, go for a paragliding. Paragliding is one of the thriving recreational and competitive sports of adventurous nature where the flyers have a flight on a lightweight, free-flying and foot-launched glider aircraft. The launch is generally from a higher altitude. Pilot sits in a harness suspended from the wings of the glider, the shape of which is determined by the suspension lines, air pressure and aerodynamics forces of the air.
History of Paragliding
The concept of gliding parachutes was forwarded by Dominica Jalbert in 1952 and by Walter Nuewmark in 1954, supported by the production of improved parachute, invention of parafoil, discovery of slope soaring technique and penning down of operating procedures led to the development of Paragliding. In June 1978, three French friends Jean-Claude Bétemps, André Bohn and Gérard Bosson made a successful paragliding attempt thereby creating a new history. Thereafter continuous developments have followed in terms of equipments, techniques and technologies used. In Nepal, Paragliding was introduced around 1996.
Paragliding in Nepal
Paragliding in Nepal has been there from 1996 which was popularized from around 2000s. Paragliding started to take off in 2007. Number of paragliding companies has reached more than 50 and number of paragliding pilots has reached more than 100.
Pokhara is the best paragliding site in Nepal where most launch start from Sarankot. One of the top 5 commercial tandem paragliding locations in the world, Pokhara has stable thermals, convenient take-off and landing, incredible mountain views that makes paragliding in Pokhara an incredible experience.
Sarangkot, Bandipur, Sirkot, Dhiki Danda and Korchon are the paragliding sites in Pokhara while Galem is a popular site in Tansen, Palpa. A company in Lapsiphedi, Kathmandu has also started its operation and the companies from operators in Bhedetar, Dhankuta, Bandipur, Palungtar are vying for the permit to start the operation for paragliding. There are not less than 3 paragliding schools in Nepal that give training to the interested persons. A single company is allowed to operate six to seven flights per day depending on the weather while around 250 flights per day operate during the peak season.
There are various types of paragliding flights offered by the companies. While for flying solo, you need to be licensed from the civil association of Nepal after completing training, other paragliding is done under a certified commercial pilot. Some of the popular types