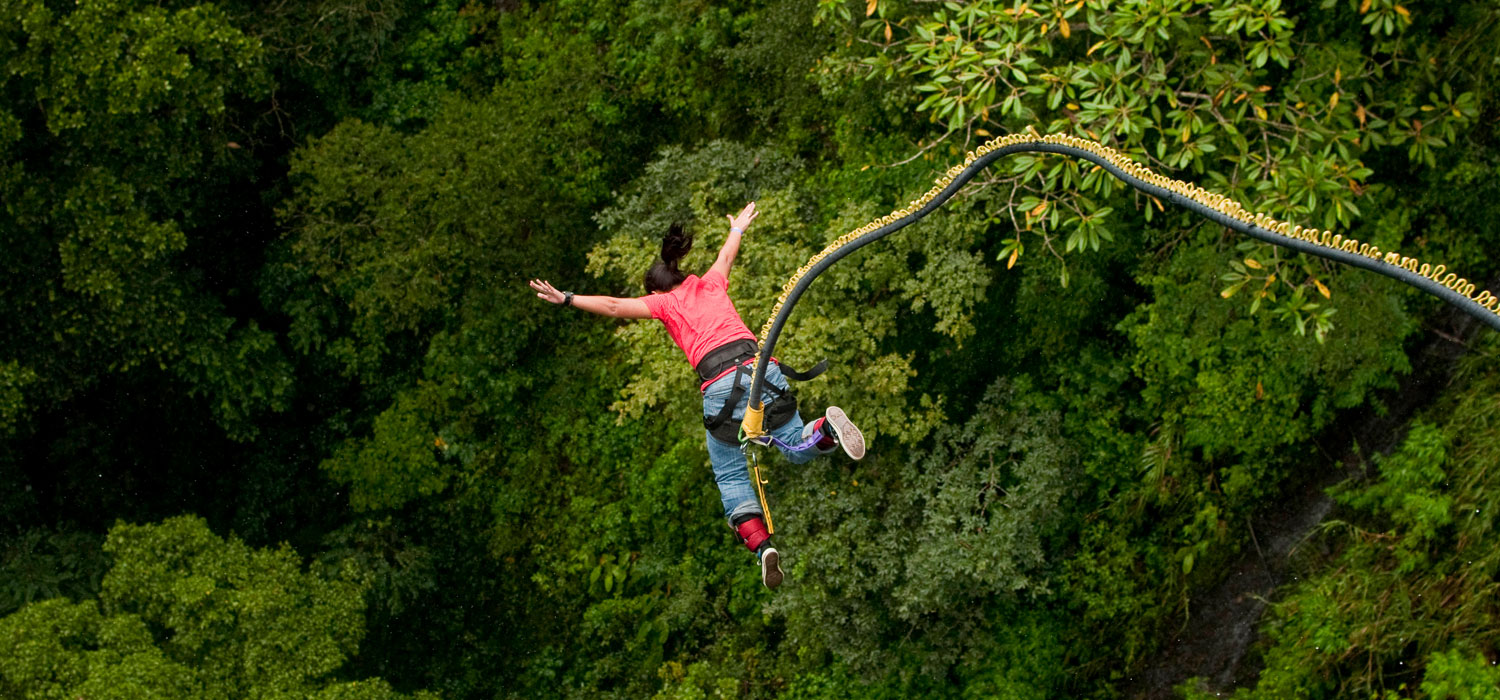 Bunjee Jumping
Bungee jumping is one of the daredevil acts where you lean on the edge of a platform all strapped up in safety harnesses and throw yourself off the high platform while being connected to a large elastic cord. A seemingly crazy idea, isn't it? Not really though. It's an act of overcoming the fear in you and gaining some more courage and determination to do something more adventurous. Now it makes some sense, right? Free falling and rebound due to the stretching and recoiling of the cord gives the sense of thrill to the persons undertaking this adrenaline rush bungee jump. The jumper continues to move back and forth up and down till the kinetic energy is released.
History of Bungee Jumping
The origin of this sport is quite recent though the origin is related to an ancient ritual of "Land divers" in Vanuatu, a Pacific archipelago, where youths jump off a tall wooden platform with vines tied to their ankles as a test of their courage and passage into manhood. Similar practice with much slower pace in central Mexico is another example of the early tethered jumping.
The first modern bungee jumping dates back to 1 April 1979 when David Kirke and Simon Keeling, members of Oxford University Dangerous Sports Club jumped off a 76 meters suspension bridge in Bristol, England. However, commercial and organized bungee jumping started with the New Zealander A J Hackett made his jump from Auckland's Greenhithe Bridge in 1986. Several successful and organized bungee jumping has been performed by many adventure seekers since then. Bungee jumping was introduced in Nepal by The Last Resort.
Bungee Jumping in Nepal
The jumping site operated by the Last Resort is situated 160 meters over the torrential Bhote Koshi River, about 60 miles east of Kathmandu and around 7 mile to the border of Tibet. The platform for this jumping is a 166 meters wide steel suspension bridge over the Bhote Koshi River gorge. Designed by Swiss experts, especially for purpose of bungee jumping, this bridge has a loading factor of 4.5 tones with a 4x safety factor fulfilling all the international standards. It is Nepal's ultimate rush! The activity of bungee jumping expanded beyond the Kathmandu valley in 2014 when similar bungee jumping activity started in Pokhara, the Lake City of Nepal. Operated by High Ground Adventure, bungee jumping in Pokhara is made from a platform in a tower where the height of jump is 70 meters over an artificial pond. A boat picks the jumper after they complete their jump and unharnessed the jumper.
Equipments used in Bungee Jumping
Bungee cord is the basic equipment involved besides the gravity and courage you already have. The special cord manufactured for bungee jumping consists of many latex strands (commonly understood as rubber strands produced out of the latex obtained from some species of trees) which may or may not be having a tough outer cover applied to it. The cord may extend three to four times the length of its free length. Carabiner is equipment that serves as the principal link between the cord and the harness. Other equipments are Harness (Full-body Harness or Ankle Harness), Bungee Cord Protective Cover (for protection from everyday handling and harmful UV rays), Bungee Cord Bumper Pad (for protecting face, head and body from mid-air collision with bungee cord), Helmet, Manual recover pulleys, Bungee mid-air rescue kit among the other equipments.
Thus, we can say that this adventure activity is influenced by some ancient tradition and used by human as the medium of conquering over their fear. Bungee jumping has found its natural home in the deep gorges of Nepal. The bungee jump over the Bhote Koshi River is one of the tallest points for bungee jumping in the world. Tourism industry of Nepal found a new adventure activity and highlight that adds variety to the tourism product Nepalese tourism industry has to offer. Devoid of any accidents till now, bungee jumping in Nepal is safe, thrilling and adventurous. Be it in the Last Resort or in Pokhara, a bungee jump tempts you to try it another time. Be courageous and go for a bungee!