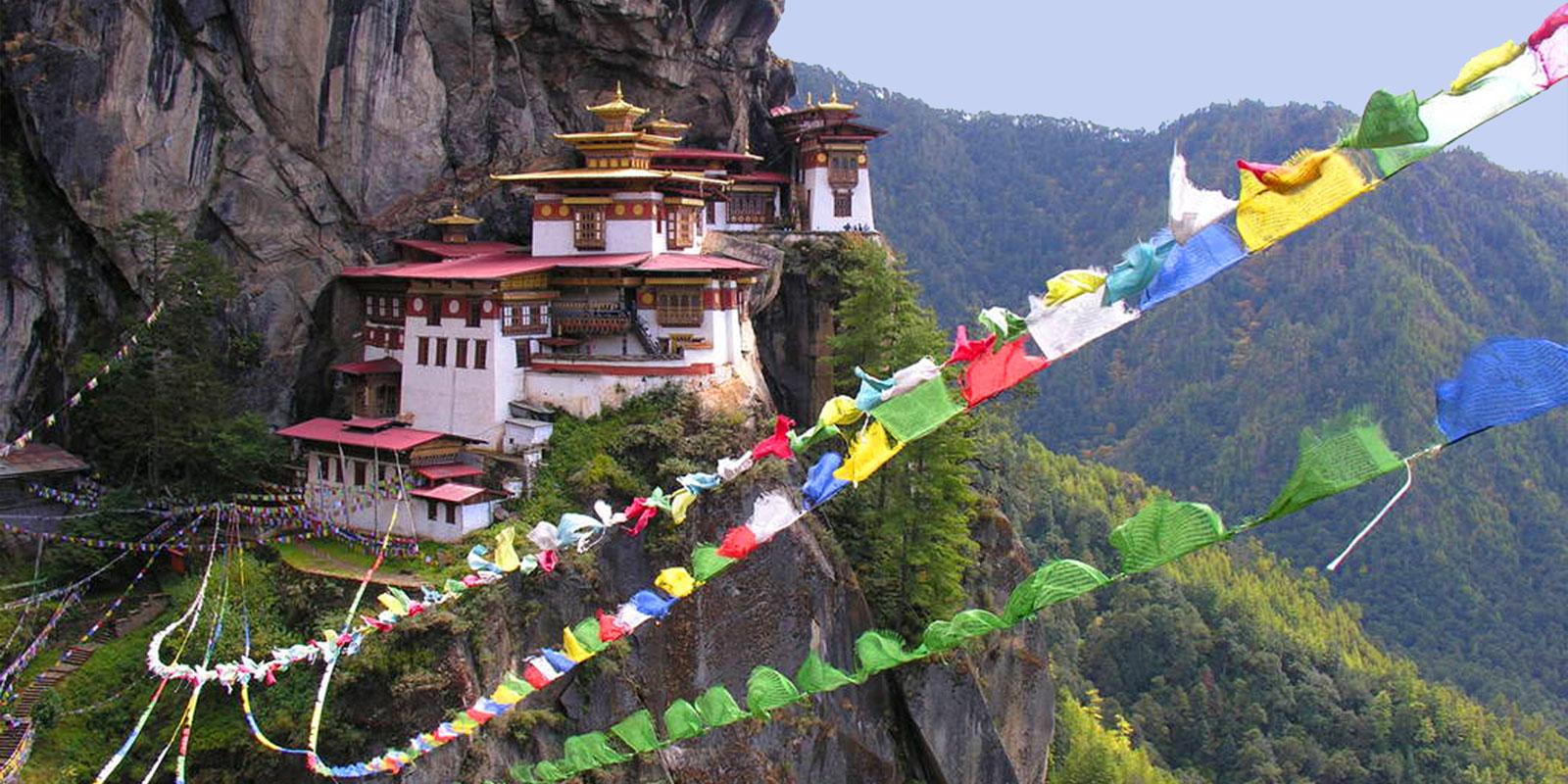 Bhutan
"The land of the thunder dragon", Bhutan is a remote and tiny Himalayan kingdom located between India and China. Considered to be the 13th happiest place in the world, and governed by the concept of the Gross Happiness Index (GNH), Bhutan was once isolated from the rest of the world, only opening its doors to tourists in 1974. Untouched by time and largely untainted by the ills of development, it is blessed with great natural beauty and unique flora and fauna.  A primarily agricultural nation divided into twenty administrative districts, Mahayana Buddhism is the nation's state religion and the country is ruled by a modified form of constitutional monarchy.  Bhutan only allows tourists to enter as part of a pre-arranged package or guided tour.
History and Geography
Human habitation in Bhutan extends back to at least 2000 BC and by 1,500 BC its people were herding animals. Buddhism was introduced to the country in the 7th century, and subsequently Bhutan had a series of feudal rulers until the 17th century, when it was unified by a Tibetan lama: Ngawang Namgyal. In the early 20th century Bhutan came into contact with the British Empire, who controlled its foreign affairs at that time. Bhutan's landscape ranges from subtropical plains in the south, through savannah grassland and bamboo jungles to the Himalayas where some peaks exceed 7000m, and is home to rare species of animals such as golden langur, and more than 5400 species of plants. The climate varies from alpine to temperate with a monsoon season between June and September. Awe inspiring forts and stupas such as Punakha Dzong and Memorable stupa in Thimpu (the Capital city of Butan), and Taktsang "Tiger's Nest" monastery in Paro city are some of the architectural wonders found here.
Arts, Crafts and Traditions
Bhutan is home to many arts and crafts which have been continuously practised from ancient times. These include textile weaving, weaving of cane and bamboo, woodworking, painting, and carving of stone, wood and slate. Its festivals also showcase its unaltered traditions. Bhutanese people perform a Chamms or masked dance that celebrates the great deeds of Guru Rimpoche with a theme of the supremacy of holy spirits whcih is believed to bring blessings to onlookers. Some other major festivals are the Chorten Kora, the Dochula Tshechu, the Jambay Lhakhang, the Paro Tshechu, Ura and Thimpu Tshechu. In the Chorten Kora devotees from the Indian state of Arunchal join their Bhutanese counterparts in celebration, while the festival of Dochula Tshechu is performed by the Royal Bhutan army. The Jambay Lhakhang festival has a sacred naked dance performed at midnight (photography is absolutely prohibited).
Bhutan provides the rare opportunity to witness a blend of modern and traditional values. Your visit will be facilitated by Bhutanese guides fluent in English who help visitors gain insight into points of religious, historical and cultural significance, along with narration of Bhutanese myths, legends, prevailing superstitions, interesting folklore and traditional values and norms. Bhutan treats its visitors with immense hospitality, and is a must visit for lovers of untouched wilderness, historical architecture, tranquil nature, rich Buddhist culture, or ancient gompas and monasteries. Tashi Delek (cheers)!