Upper Dolpo Trekking: The Remote Site Trekking in Nepal
May 27, 2017 admin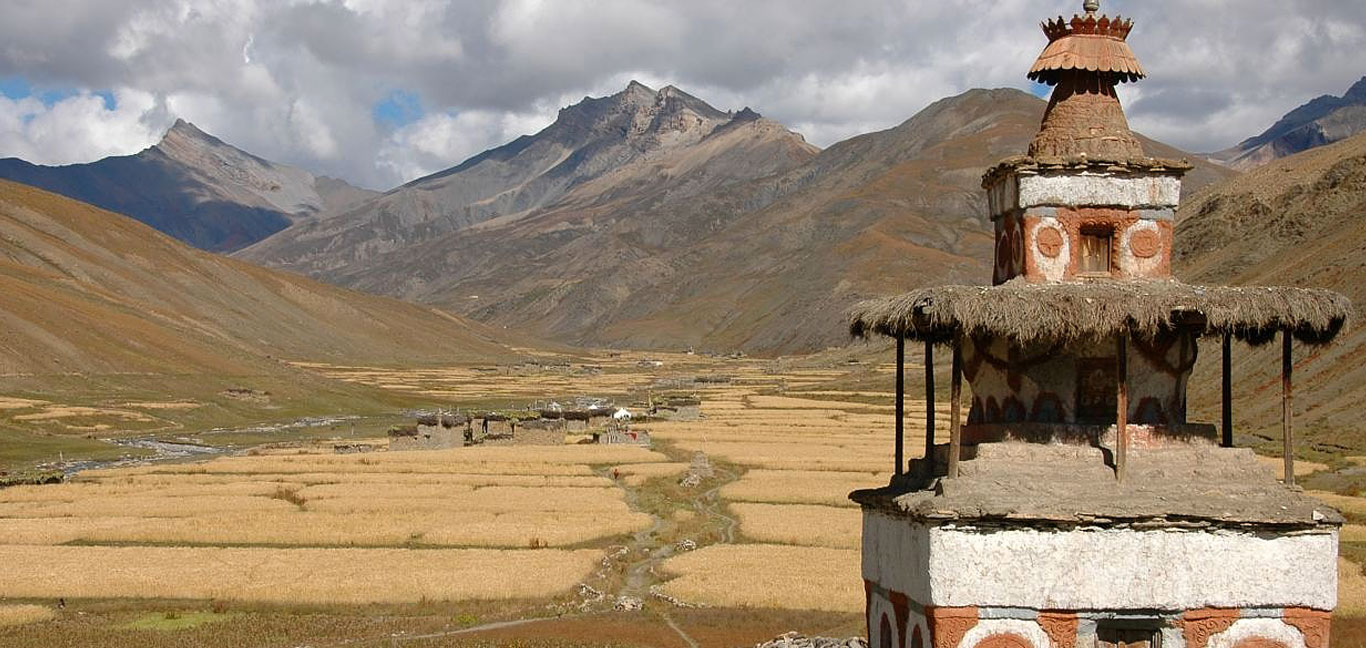 Upper Dolpo Trekking is a perfect example of remote site trekking in Nepal. The area located between Dhaulagiri Himalayan Range and Tibetan plateau is regarded as Upper Dolpo. It is situated in west-north direction from Kathmandu, the capital.
Upper Dolpo Trek is an exemplary site in terms of high altitude inhabited land in Nepal and probably in the world. The tough geography of the area kept this place isolated from other parts of Nepal. But, the positive side of this is that due to least access to road connectivity the destination is able to preserve its unique identity as the site is regarded as only place in the world where pure Bonpo (a religion similar to Buddhism but not same) is still practiced.
Most of the people living here are Tibetan descent. They hailed here more than 1000 years ago and settled since then practicing meditation and BonPo rituals. Due to this the site seems a kind of mysterious land where you breathe spirituality.
To preserve the unique identity of this place government of Nepal listed this area under restricted area trekking where special permit is required for Upper Dolpo Trekking. One of the British tour operators was the first to get trekking permit here in 1990. Since then many people trekked in this mysterious land. Most of the villages in Upper Dolpo are settled above 4,300m.
Trekkers pass through different mountains like Annapurna, Dhaulagiri and Kanjiroba to reach Upper Dolpo. The stunning scenery, undisturbed lake, beautiful mountains, pure air and typical Buddhist practices re appealing for every trekker here. In short, it is a kind of heaven of its own where people like to immerse in its beauty completely.
The calm attraction of Shey Gompa and Phoksundo Lake will always make special room in your heart and nobody can deny this fact. The deeper you penetrate the more beauties of the area are unfolded one after another like the peeling of onion scale.
Upper Dolpo Trekking destination preserves several endangered species like snow leopard, grey wolf, musk deer, blue sheep and many more.
The traditions and culture of this area is truly different for outsiders like you. The Bon Po culture is the main attraction of this place. It is one of the oldest religions of the world which is definitively older than the existing Buddhism. The crux of this religion is that everything in this world has spirit. So, treat them mannerly, be it living or non-living.
The Cultural Revolution in China destroyed almost everything related to BonPo then especially in Tibet. No remains of original BonPo are found in Tibet at present. The revolution could not touch Dolpo and hence, it is said that the last group practicing Bon Po in the world exists in Dolpo only.
According to the legends, Guru Rinpoche discovered Dolpo as 'Hidden Valley' where seekers can practice meditation. It is a sacred land of meditation.
Upper Dolpo Trekking Itinerary
Day 01. Arrival at TIA Kathmandu (1350m)Transfer to the Hotel.
Day 02. Kathmandu City tour –
Pashupatinath Temple
Boudhanath Stupa
Patan Durbar Square
Monkey Temple
Day 03. Kathmandu to Nepalgunj by flight.
Day 04. Nepalgunj to Juphal flight and trek to Dunai. 2850 m (3/4 hrs)
Day 05. Trek from Dunai to Ankhe. 2896 m (4/5 hrs)
Day 06. Trek from Ankhe to Sulighat. 3500 m (5/6 hrs)
Day 07. Trek from Sulighat to Phoksundo Lake. 3611 m (4/5 hrs)
Day 08. Rest Day!!
Day 09. Trek from Phoksundo Lake to Phoksundo Khola. 5/6 hrs
Day 10. Trek from Phoksundo Khola to Phoksundo Bhanjyang. 5/6 hrs
Day 11. Trek from Phoksundo Bhanjyang to Shey Gompa (4500m) via Nagdolo La pass 5110m (6/7 hrs)
Day 12. Rest Day!!
Day 13. Trek from Shey Gompa to Namduna Gaun (4800m) via Saldang La pass. 5200m (6/7 hrs)
Day 14. Trek from Namduna Gaun to Saldang. 3620m (5/6 hrs)
Day 15. Trek from Saldang to Yangze Gompa. 4960 m (5/6 hrs)
Day 16. Trek from Yangze gompa to Sibu. 4560 m (6/7 hrs)
Day 17. Trek from Sibu to Jeng-La Phedi. 4900 m (5/6 hrs)
Day 18. Trek from Jeng-La Phedi to Tokyu Gaun (4200m) via Jeng-La pass. 5090 m (6/7 hrs)
Day 19. Trek from Tokyu Gaun to Dho Tarap. 4040 m (5/6 hrs)
Day 20. Trek from Dho Tarap to Tarap Khola (Kama Kharka). 3800 m (5/6 hrs)
Day 21. Trek from Tarap Khola to Khani Gaun. 3150 m (5/6 hrs)
Day 22. Trek from Khani Gaun to Tarkot. 2537 m (5/6 hrs)
Day 23. Trek from Tarakot to Dunai. 2120 m (3/4 hrs)
Day 24. Trek from Dunai to Juphal (4/5 hrs)
Day 25. Fly from Juphal to Nepalgunj and Fly to Kathmandu.
Day 26. Final Departure
For more information fill up our contact form and send to us, we will give you more information as soon as possible.