How to Trek Safely in Nepal?
November 10, 2017 admin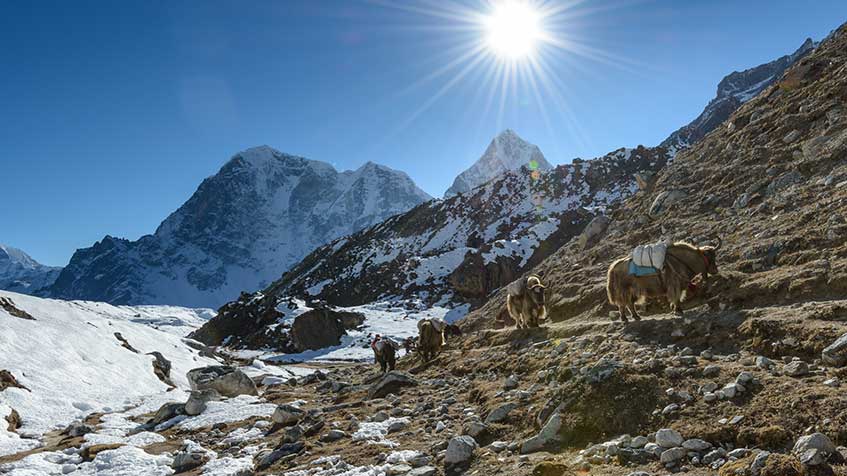 Trekking is a simple term used by travelers who go on a hiking adventure that can take several days to complete and will eventually have them accommodate themselves at a tea house, lodge or a tent camp. And those who do trekking are usually called as 'trekkers'. Trekking can be a fun experience for some while it may be a thrilling, heart pounding experience for others who enjoy trekking at challenging places with extreme weather conditions. But no matter what, trekking is deemed to be a popular tourist activity in Nepal which attracts thousands of novice trekkers from all over the world each year.
Nepal is not unfamiliar with stunning, breathtaking places that can enchant anyone with an ever-looming feeling of extravagant joy and happiness. Everyplace you travel inside Nepal has its own unique attractiveness that can make you fall in love with Nepalese culture, people, traditions, language, natural scenery and historical significance. There's so much to learn for those who are willing to leave their modern-day convenience's and comfort zones in order to explore some never before seen territories like Upper Mustang, Upper Dolpo, Kanchenjunga, Manaslu region and many others which I will be discussing down below.
But getting back to our main topic, how do you manage your trekking in Nepal that can help you complete your journey without hindering your own personal safety or any other individuals the matter of fact. You have to consider many things before packing your bags for a flight to Nepal. You need to make sure that everything is right. The trekking destination, the route you plan on taking, the clothes you packed or the budget you planned for you entire journey. These are some of the things which will indirectly affect your trek nonetheless. However, if safety is your huge concern you should not plan your trek alone and consider bringing others with you like your friend or your family member.
In addition to that, the place in which are going for trekking must be researched well by you as it can beneficial for you if you know about the place of your choice in depth. After all, learning more won't harm you, will it? Furthermore, it may even help you find out things which may come in handy like the natural terrains or the state of transportation and medical facilities of those regions. By doing so, you will be better prepared individually for your trek in Nepal. There are several trekking destinations which are very popular amongst fellow trekkers and are quite safe for everybody including children and old age people. So, you don't need to stress yourself out if you think trekking in Nepal is a dangerous activity to take on.
Another most important thing to keep in mind is your Travel Insurance which I suggest you to buy. A valid, authentic Travel Insurance can be a life saver for you as they can help you out on various troubling situations. Like you may have to get rescued due to some kind of illness or injury that happened to you while trekking in Nepal. Or some of your most precious items that are well over expensive can get damaged or even get lost/stolen. Hence, in those situations your travel insurance can help you a lot at times. You can get rescued by a helicopter from a very remote region of Nepal where no other vehicle can be used to transport you to medical centers like hospitals o Kathmandu.
Lastly, you can try Everest Base Camp Trek, Annapurna Base Camp Trek and Langtang Valley Trek if it's your first time visiting Nepal. As these treks are not that hard to do in general with proper trek routes that has proper land markings and maps to lead you safely towards your destination. And if you are someone who loves traveling alone with fewer crowds or groups of people then there's Upper Mustang Trek, Manaslu Circuit Trek, Upper Dolpa Trek, Khopra Ridge Trek, Gokyo Lake Trek and Kanchenjunga Base Camp Trek.