Top Things To Do in Pokhara
January 26, 2017 admin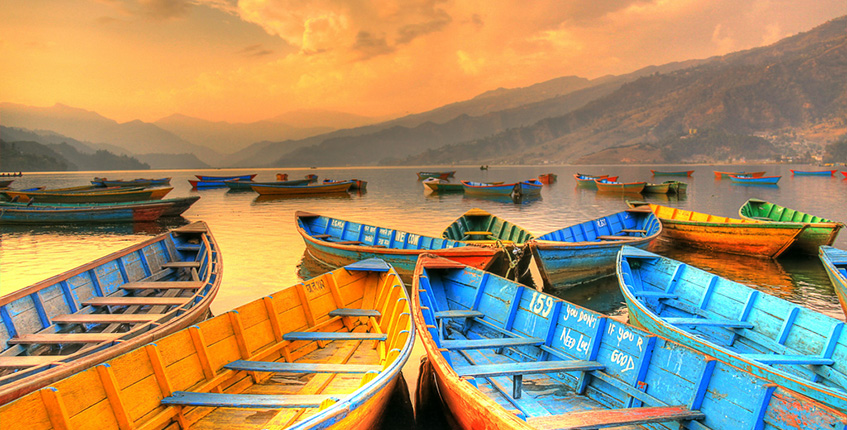 Pokhara is a naturally gifted city and is one of the main attractions for tourists visiting Nepal. Pokhara is popularly known as 'city of lakes' as it has many beautiful lakes but lakes are not the only things there to catch your eye and melt your heart. Pokhara has almost everything that your paradise of dreams has if not all. The city is blessed with mountainous beauty, scintillating scenery, beautiful hilltop, amazing landscapes, pristine lakes, caves, etc. If you get to visit Pokhara, then consider to do things below to have a great time there.
Some of the top things to do in Pokhara are as follows:
Sightseeing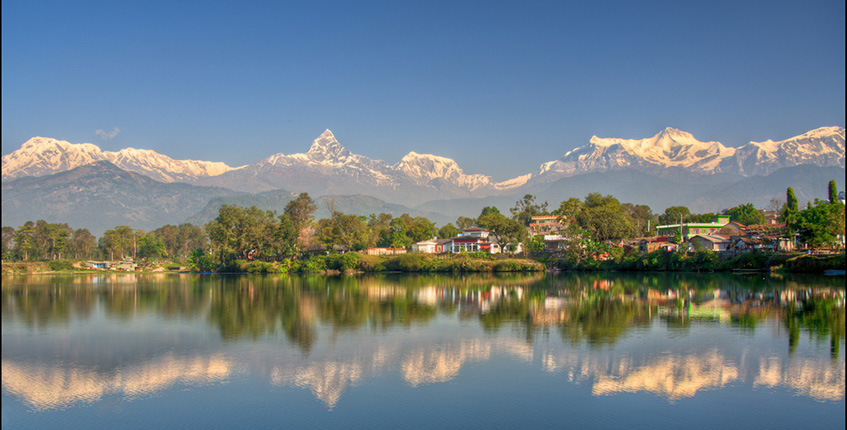 Pokhara is undoubtedly one of the best places in the world for sightseeing. Since there are many sites worth to visit in Pokhara, it is more likely that you miss some of the sites to explore which you may regret later. Below is the list of the notable sites in Pokhara that you should not miss to visit or explore.
Lakes: Phewa Lake, Rupa Lake and Begnas Lake
Devis Fall (locally known as Patale Chhango), a mesmerizing waterfall
Mountainous views: Pokhara offers great panoramic view of the Annapurna massif. Don't miss to catch the view of Machhapuchhre (Fish tail) as it is the most impressive one.
Caves : Mahendra Cave, Bat Cave and Gupteshwor Mahadev Cave
Temples: Barahi Temple, Bindhabasini Temple, Peace Pagoda (Buddhist Stupa)
Sarangkot: It is a lovely hilltop famous for sunrise and sunset over the Himalayan views.
Museums: International Mountain Museum, Pokhara Regional Museum and Annapurna Museum
Seti River Gorge
Boating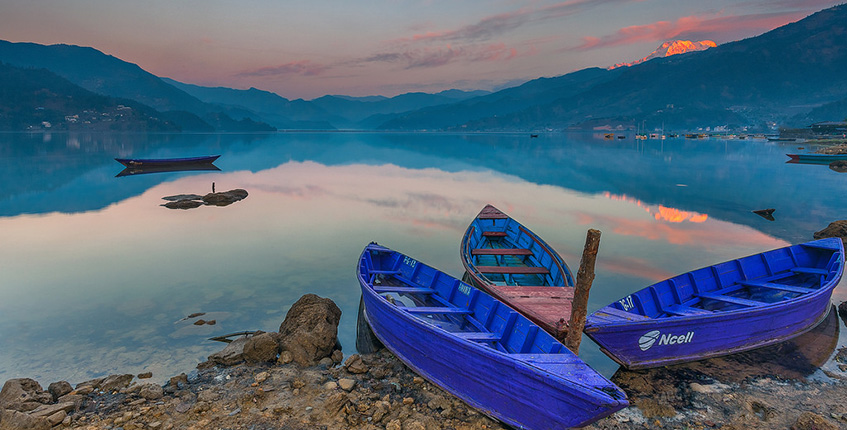 Boating is an exhilarating activity in the city of lakes. Rowing on a boat on the pristine lakes of Pokhara lets you forget everything and you get lost in the serene atmosphere. Boating on the Nepal's second largest lake Phewa is an amazing experience. In the middle of the lake, there is an island that accommodates Taal Barahi Temple. You can also have great time in the eastern shore of the lake popularly known as Lake Side. Boating is also offered on Begnas Lake and Rupa Lake. Hire the boat for an hour or a day and enjoy amazing boating experience admiring natural beauty of Pokhara. You can either row the boat with boatman or take the boat all by yourself without boatman.
Paragliding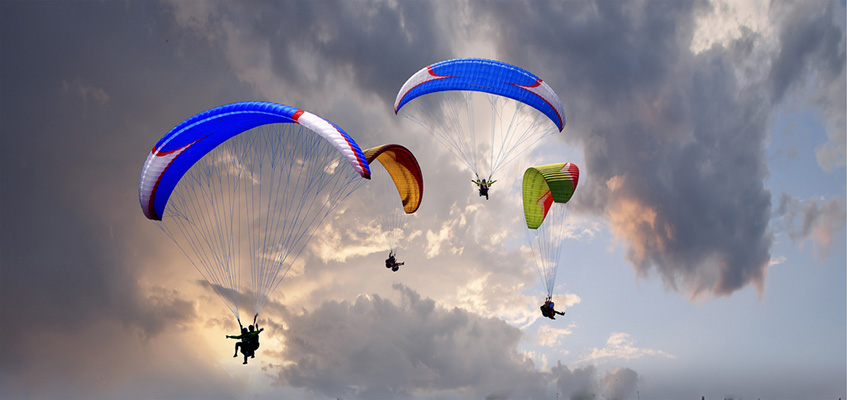 Pokhara is one of the best tandem paragliding locations in the world. Moderate temperature, convenient take-off and landing zones, the safety of a large lake and amazing mountainous views along with scintillating scenery make it so. Tandem paragliding is what many do which means you are paragliding with an experienced pilot who lets you sit in a harness carefree and enjoy the natural beauty. If you are an experienced paraglider and want to fly on your own, then you require a flying permit from the civil aviation office in Pokhara which you can get by providing them with your paragliding license, passport and other necessary documents.
Ultra-light Flight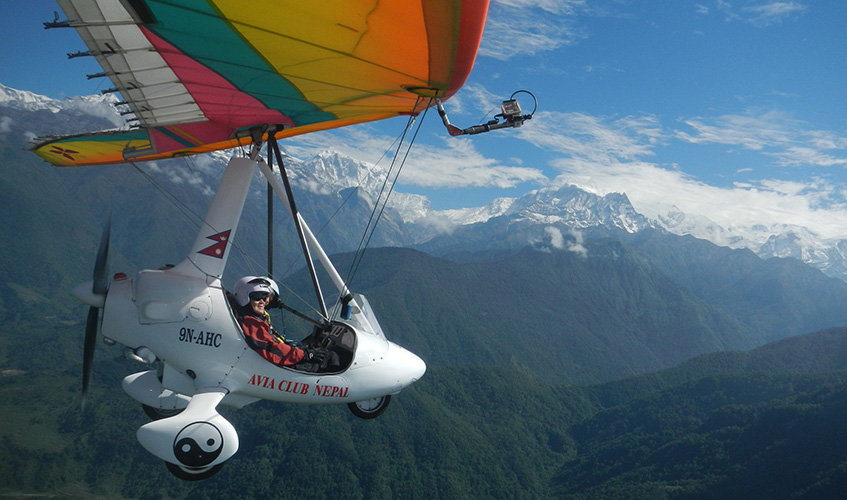 Ultra-light flight is the best thing to do to get a bird's view of beautiful Pokhara. By the ulra-light flight, you can enjoy breathtaking views of Himalayas and can watch beautiful lakes from the sky. It is a two-sitter flight along with pilot that operates from Pokhara airport beginning September through June.
Bungee Jumping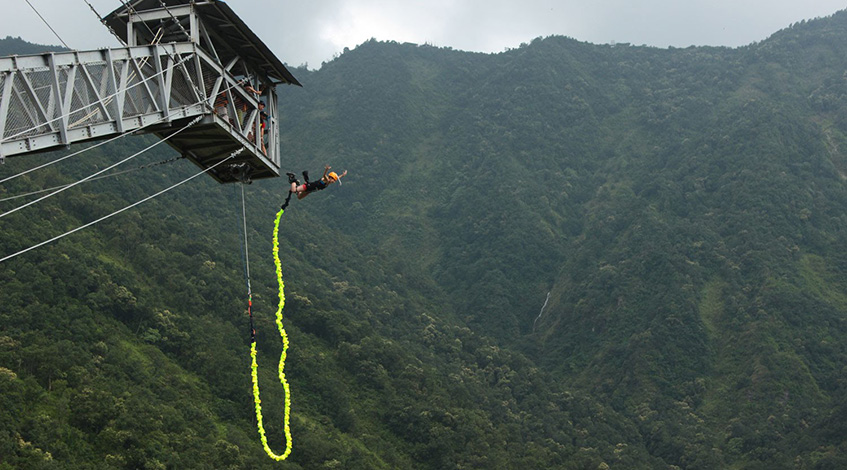 Introduced in the mid-September 2014, bungee jumping in Pokhara is getting more popularity among adventure lovers. It is the second bungee jumping site in the country and it is located at a site 20 minutes from Lake Side of Pokhara. The fall is from a height of 70 meters over an artificial pond. The bungee jumping site offers an amazing view of the Himalayas, the hills and the rivers.
Zip flyer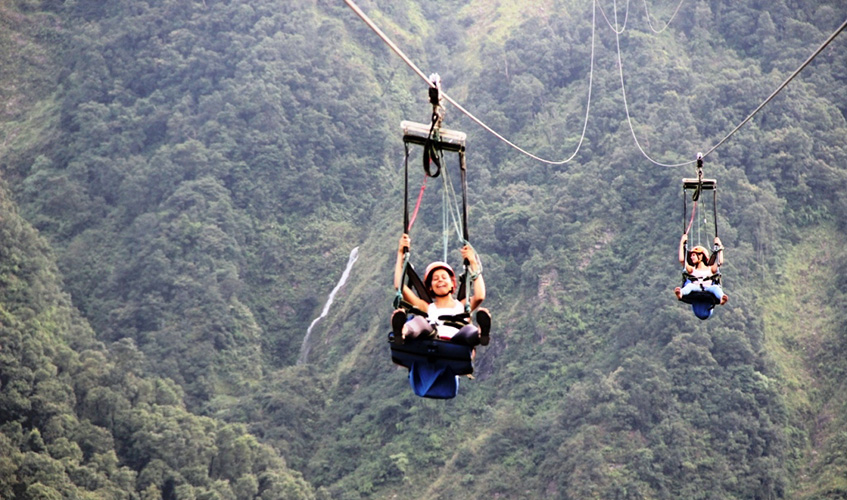 Another exhilarating adventurous activity to do in Pokhara is Zip flyer or Zip line. In case you don't know, it is a ride on a trolley with a pulley suspended on a steel cable attached to towers with certain inclination. Zip flyer in Pokhara is the world's steepest zip flyer with a total distance of 1.80 km (1.12 miles), a vertical height of 610 m (2000 ft) and a maximum speed of 120 km/hr (75mph). No doubt, it is one of the most extreme zip flyers in the world. Experience the fear and excitement of zip flyer in Pokhara.
Rafting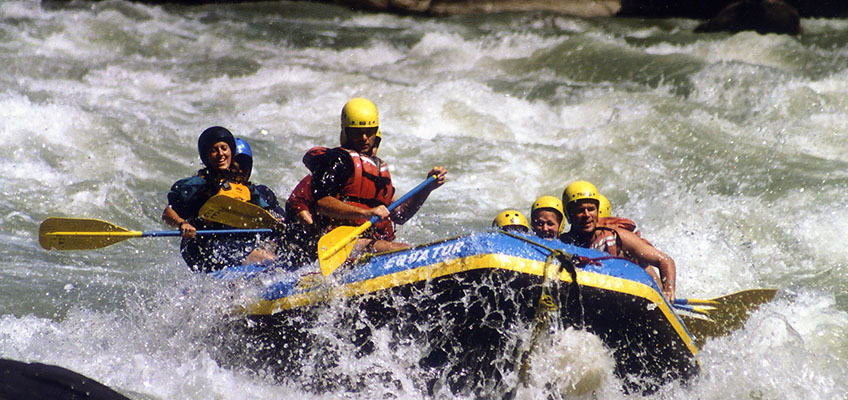 Rafting in Trishuli River is probably the most exciting and thrilling way to travel from Kathmandu to Pokhara. Rafting can also be done in the Kali Gandaki and Seti Rivers which is equally exhilarating.
Mountain Biking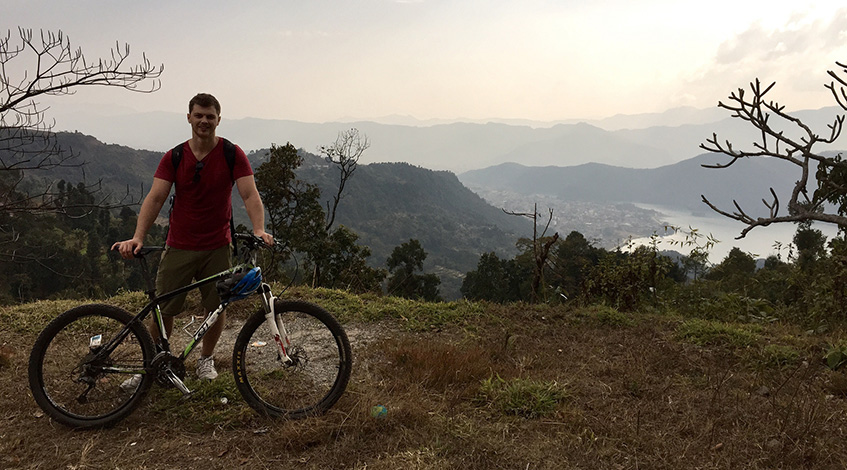 Take mountain bikes on rent on an hourly basis and go for a ride through the lush green vegetations, picturesque villages, up and down the hills, along the river banks, around the temples and along the highway. Mountain biking is a great activity to do in Pokhara to enjoy its beauty.
Trekking

Pokhara is the gateway of treks in Annapurna region including Annapurna Base Camp Trek, Ghorepani Poon hill Trek, Jomsom Muktinath Trek, etc. If you have enough time, you can begin your trek from Pokhara.