Tips for Everest Base Camp Trek
October 13, 2017 admin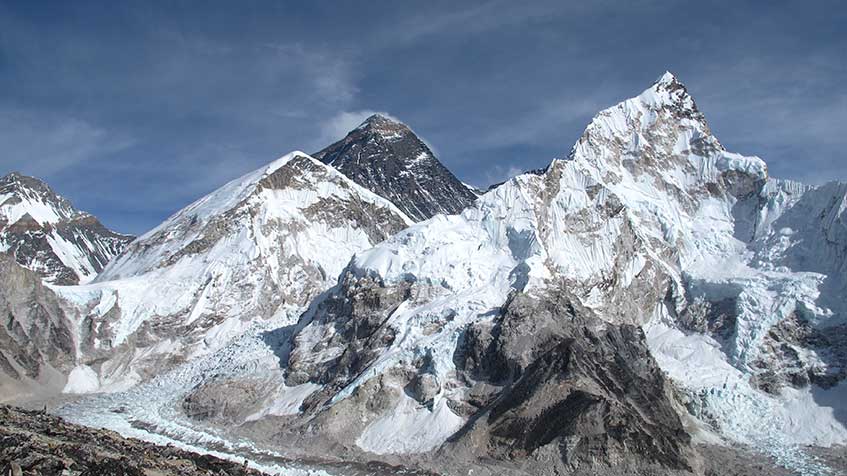 Once in a while we want to test our limits and see how much can we push ourselves without breaking down. We tend to search for lucrative adventure and incredible destinations where we can satisfy those inner desires. And amongst those destinations is the spectacular Everest Base Camp. Yes, Nepal is quite popular for many of its exquisite destinations. However, some places like Everest Base Camp top the list of Nepal's one of the most thrilling travel destinations.
Renowned all over the world for being the country which has the world's highest mountain –  Mt. Everest (8,848m), adventure enthusiasts plan to visit Nepal just to witness this incredible gift of nature with their own eyes. Many even successfully summit the entire peak just to conquer the world's highest mountain which is very extra ordinary. But for many travelers, just by reaching the Everest Base Camp is enough. So, with that in mind, thousands of people from all over the world embark on their journey to Everest Base Camp through the villages and trails of Khumbu region.
Although, Everest Base Camp is situated at a high altitude of 5,380 meters above sea level (17,600 ft), many people ranging from young to old have been able to step their foot in the phenomenal base camp of Mt. Everest where icy glaciers and minus degree temperatures lie in wait for travelers. But nonetheless you have to be highly vigilant during your journey as one wrong step may lead to disastrous consequences. The terrains over all is going to tough not because how the trail's geography is but because of the elevation in which you will be walking.
With a journey like Everest Base Camp Trek, you can't underestimate things like weather and altitude. These two things can play a huge role to one's successful attempt of reaching the EBC. If you succumb to the elevation, you will have to stop your journey and head back down to lower altitudes. If the weather gets harsh, your only option will be to stay put inside your lodge till the weather clears or you might have to postpone your flight to Lukla. In addition to that, you have to keep acclimatization and altitude sickness in mind as well.
Travelers have to make sure that their body is healthy and fit to endure such perilous journey. They must be fully prepared to handle the physical and mental stress of going to the base camp of world's highest mountain. Some might even need to train themselves prior to their departure by doing some cardio vascular activities such as running, swimming etc. Besides that, you also have to plan properly about packing the right clothes and equipment for you trek.
Lastly, avoid packing useless items and try your best not to over pack. As many traveler's pack more than what they need and at the end regret their decision while walking up in the Himalayan terrains with a heavy backpack.