Pokhara: The Lake City of Nepal
August 30, 2017 admin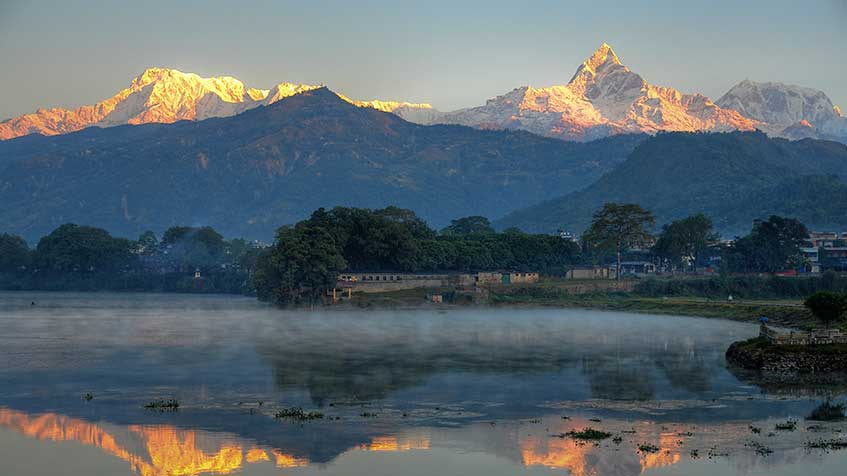 "To awaken alone in a strange town is one of the pleasantest sensations in the world."
 – Freya Stark
Nepal in itself is a very beautiful place to travel and enjoy one's holidays. That's mainly because, an abundance of nature, history, culture and people can be found in Nepal. And it simply won't be possible to talk about all of those things. Because there's so many of them. However, I can tell you about one certain place/city that justly stands out from the bunch of the rest. And by that place, I mean Pokhara: The lake city of Nepal. When we have to talk about, I rather talk about Pokhara instead of the others. I will state the reasons for that below.
Pokhara city attracts a lot of attention when it comes to tourism and travel in Nepal. Not just foreign tourists, but Pokhara even attracts the eyes of Nepalese people. Pokhara lies in the western region of Nepal near to the Annapurna region. And one of the first things noticed by travelers who visit Pokhara is its iconic Phewa Lake. For this reason alone, travelers get fascinated and charmed by the geographical location of Pokhara. In Phewa Lake, you can go and do some boating while observing the stunning mountain vistas. Similarly, foreigners can find many touristic hotels, cafes, bars and shops just beside the shores of Phewa Lake.
The Phewa Lake has become the major attraction of Pokhara city in the recent years. But it doesn't mean that this is the only thing that is good about Pokhara. If you think so, then hear me out. A site called "World Peace Pagoda" also lies here from where you can enjoy the panoramic views of Himalayas and the Pokhara city. Likewise, Sarangkot is another viewpoint atop a hill nearby Pokhara. Here you can even go and do adventure sports like paragliding. If you want to experience something truly different then visiting I recommend Mahendra Cave and Bat Cave. Or if you plan to visit Pokhara during monsoon, then you might want to visit "Davis Fall".
Remember, everything that I mentioned above can be done even if you have a short time to stay in Pokhara. These people even include trekkers who are returning back from Annapurna Base Camp or any other part of Annapurna region. After completing a thrilling trek, trekkers can find homage in Pokhara city and simply relax for the rest of their time. Or they can enjoy their time in Pokhara to the maximum by visiting its popular bars and clubs. There's a lot of option for those who want to spend their vacation in Pokhara city. And it doesn't matter how much days you have. As long as you want to, there will always be something new to try in Pokhara.