Mardi Himal Trekking in Nepal Himalaya
July 4, 2017 admin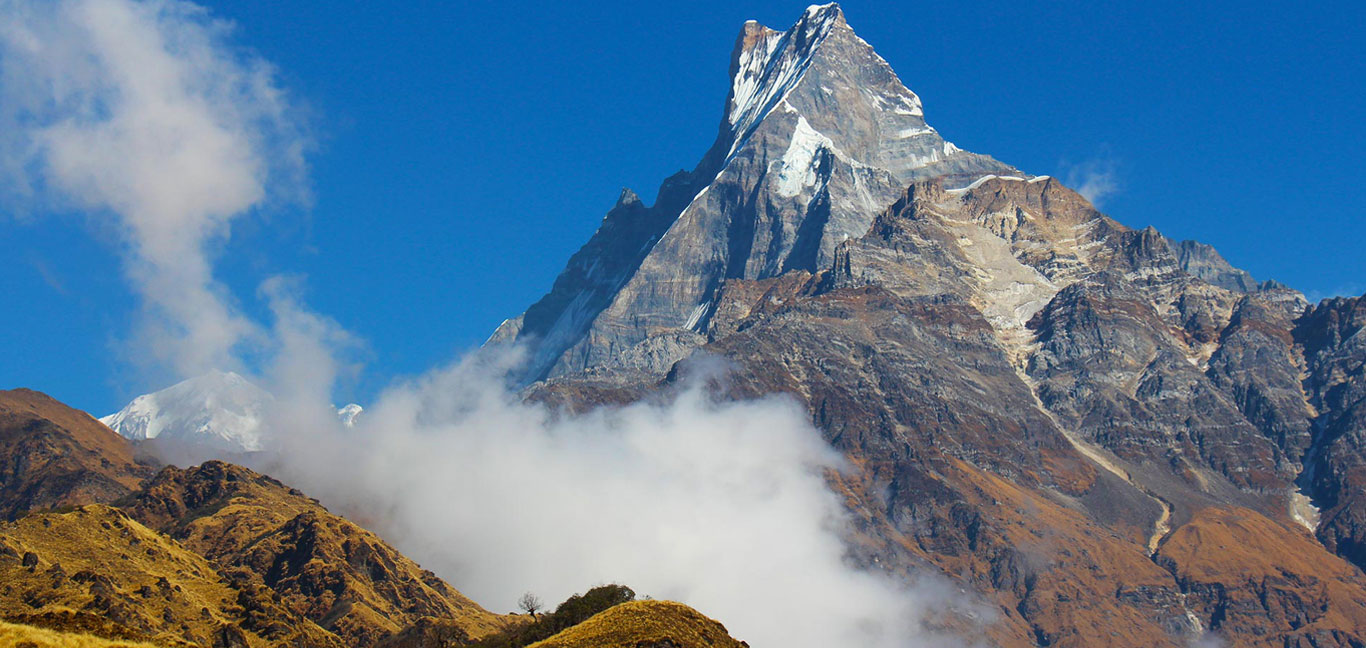 'on an elusive and  hidden trails' around high hills and ridges of Mt. Annapurna to Mardi Himal'
Mardi Himal although a small peak of above 5,587m well hidden below towering virgin and magnificent Machhapuchare 'Fish Tail' peak, where this amazing walk leads you on an elusive trail away from mainstream trekking routes.
The most wonderful about Mardi Himal trekking is its complete tranquility in the shadow of giant peaks of whole Annapurna Himalaya range extends towards Lamjung and Manaslu mountains.
Mardi Himal Trekking takes you to undisturbed and unspoiled areas where you can encounter few trekkers the reason is that travelers hardly heard and noticed about this hidden and enchanting areas, where the walk leads you into complete wilderness for few days.
Mardi Himal Trek was first noticed by early pioneers and explorer around mid-1970's as a different peak but close to Machhapuchare Himal where the southern flanks of Fish Tail touches the rocky ridges of Mardi Himal.
Mardi Himal Trekking starts and ends on beautiful touristic Pokhara, located on a verdant valley surrounded by green rolling hills dotted with rural farm villages and beyond lies the massive Annapurna range with towering Machhapuchare, on a clear day one can view Mardi Himal from Pokhara beneath Fish Tail peak.
Walk leads you towards the outskirt of Pokhara where the path rises towards high scenic ridges of Dhampus and Potana village with ever present of snow capped peaks on daily walks towards Mardi Himal.
At first trek leads through human settlement and villages habituated by the hill tribe the Gurung people of Tibetan Buddhism religion origin and with colorful culture, as the walk progress leaving the main trails behind for complete wilderness in the harmony of nature and high Mountains.As the walk enters into
As the walk enters into cool alpine woodland of tall rhododendron-pines-oaks-magnolia and firs tree lines passing several cattle herders shades and grazing meadows with  overnights in simple and cozy mountain lodges offering rooms with a view.
Mardi Himal trekking finally reaches at high ridges below towering South Face of Machhapuchare and Mardi Himal, the highest spot of the adventure at 5,106 m high overlooking range of peaks from Dhaulagiri-Annapurna towards Manaslu Himalaya in the eastern horizon, truly a magnificent place to be in complete serene environment.
The trek to Mardi Himal offers several routes to reach its base camp one from South East Routes and the other South West directions, both directions provides complete wilderness on high ridges and hills covered with dense forest of rhododendron-magnolia-oaks-pines and fir tree lines and soon disappears for short bushes at high Mardi Hill areas as the altitude gains on the walks.
Mardi Himal can be trekked all year round except the months of June to mid September which is the wet monsoon months, for flowers and nature lovers spring time will be perfect when wild flowers like magnolia and rhododendron covers the forest with riots of colors.
Mardi Himal Trekking finally concludes with downhill walk to a road head for short drive back to scenic Pokhara by its serene Phewa Lake.