Khopra Danda Trekking with itinerary and highlights of the trek
November 26, 2016 admin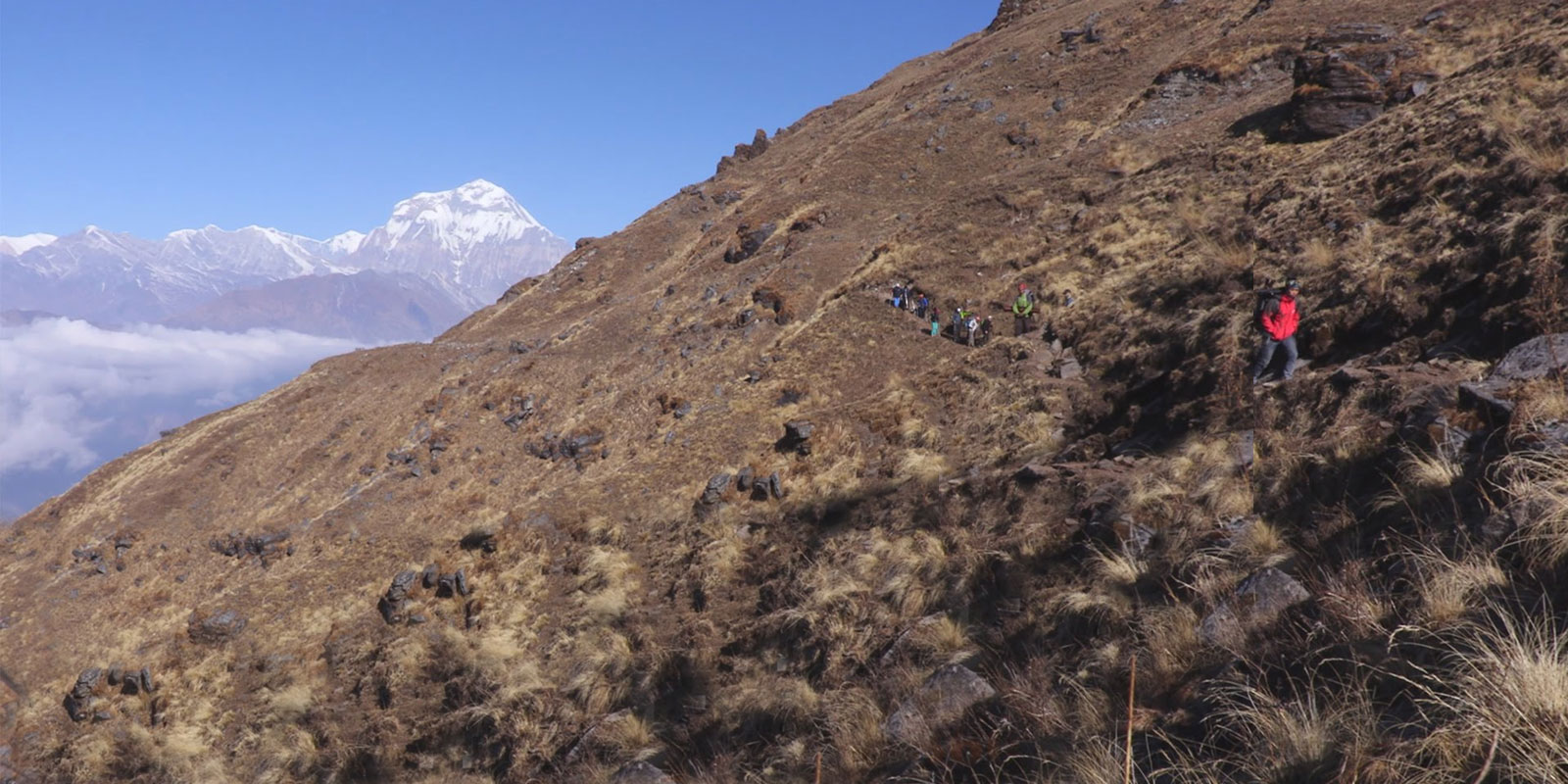 Khopra Danda Trekking is newly introduced trekking site of Nepal. Located in Annapurna region, the site is the perfect example of unique trekking destination as you will get an exciting opportunity to view various mountains along with typical cultures and traditions of local. It is located at an altitude of 3660m.
Khopra Danda Trekking is a right choice for those who want to break the busy schedule of professional life and stand out of rat race for some time. It adds bliss in your life changing the system of life from business to relaxation and noise to silence.
The trail begins unfolding the petals of natural beauty one after another until it reaches Poon-Hill. It is a vantage point where many trekkers like you gather to get a long life memorable view of Annapurna and Dhaulagiri. The rays of morning sunlight strike the mountains turning them into gold and silver gradually. It is a heart capturing a moment for you.
The area is inhabited by Magar people. They are one of the 59 indigenous groups of Nepal who have distinct and unique culture. They (Magar) are popular for their dancing and singing skills. They have their own musical instrument and typical costume. They are also popular for their valor which they proved during World War I and II fighting in support to British Empire. Many Magars are decorated with Victoria Cross.
From Khopra you get an outstanding view of Annapurna South, Dhaulagiri, Nilgiri, Tukuche Peak and Dhampus Peak along with few more peaks.
Khaire Lake near Khopra will tranquil you. The lake is very calm. It connects you with nature and immerses in its beauty. In the festival of Janaipurnima, people gather here (Khaire Lake) and celebrate the festival uniquely. People drink yak blood at this time. They believe that drinking yak's blood will cure many diseases. They do not kill yak for this purpose rather they puncture some part of yak and take out the blood.
Locals believe that Yaks graze yarshagumba and it (yarshagumba) is regarded as a famous herb which is a cure for many diseases. Hence, people drink yak's blood. This makes Khopra Danda Trekking more unique than other destinations.
ITINERARY OF KHOPRA DANDA TREKKING
Day 01: Kathmandu to Pokhara(800m) by Tourist Bus.
Day 02: Pokhara to Phedi by private Jeep then trek to Landruk. 1565m (5/6 hrs)
Day 03: Trek from Landruk to Tadapani. 2630m (5/6hrs)
Day 04: Trek from Tadapani to Bayeli Kharka.
Day 05: Trek from Bayeli Kharka to Upper Chistibung.
Day 06: Trek from Upper Chistibung to Khopra.
Day 07: Trek from Khopra to Khaire Lake then back to Khopra Danda.
Day 08: Trek from Khopra Danda to Bayeli Kharka.
Day 09: Trek from Bayeli Kharka to Ghandruk. 1940m (5/6 hrs)
Day 10: Trek from Ghandruk to Nayapool (1100m) then drive to Pokhara by private Jeep.
Day 11: Pokhara to Kathmandu by Tourist Bus.
Day 12: Final Departure.
HIGHLIGHTS OF KHOPRA DANDA TREKKING
New Trekking Route
Tea House Trek with most beautiful view
Panoramic view of Mount Dhaulagiri, Annapurna, Fishtail and more
Decent through postural village on the way down
Amazing Khaire Lake day tour
And see the Yaks 🙂
WHY BOOKING WITH LUXURY HOLIDAY TREKS?
We care for your safety & Security
Responsible tourism
Private groups
A grade English speaking guide
Direct pay, No commission
100% satisfaction guarantee