Kanchenjunga Trek Nepal
August 6, 2017 admin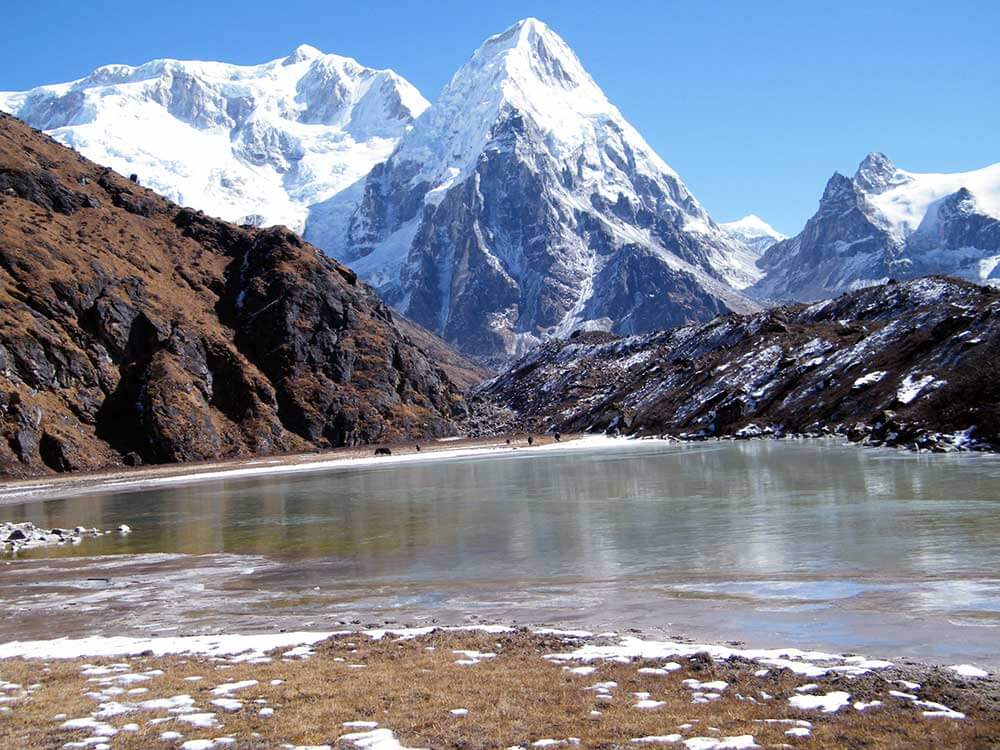 Trip Outlook for Kanchenjunga Trek Nepal :
Duration : 18/19 days
Max Elevation: 4650 m
Difficulty : Hard
Best Season : September to November and March to May
Starting point: Taplejung
Ending point : Suketar
Permit : US $ 10 per week per person, must be group of 2 or more trekking through a recognised agency from Nepal.
Kanchenjunga Nepal Trek  Overview:
Mount Kanchenjunga (8586 m.) is the third highest peak in the world and the second highest in Nepal. Kanchenjunga Trek Nepal offers a view of Mount Kanchenjunga with other mountains. Trail hike follows pleasantly beautiful panoramic views and natural scenarios of gigantic peaks and glacial areas. Kanchenjunga region is one of the most unexplored treks in Nepal.
Kanchenjunga Trekking is one of the most popular hiking where you get an opportunity to experience the spectacular scenery of the mountains, flora and fauna and rich local culture of the locals there. On hiking trails of Kanchenjunga trek Nepal, you can see the panoramic view of all the senses as it is in the high altitude. This area has recently been reopened which gives you the opportunity to explore the natural beauty of this region. The pristine landscape around the mesmerizing contrast and variety that is occupied by this path is the main point that hikers dream about. This breathtaking mountain region passes through farmlands and wooded valleys too. You must come and seize the opportunity to see the close-up view of this enchanting mountain and its surroundings.
Kanchenjunga Trekking Itinerary:
Day 1 : Fly from Kathmandu to Biratnagar and drive to Taplejung
Day 2 : Taplejung to Chhirwa
Day 3 : Chhirwa to Sekathum
Day 4 : Sekathum to Gyabla
Day 5 : Gyabla to Ghunsa
Day 6 : Ghunsa to Selele
Day 7 : Selele to Tseram
Day 8 : Tseram to Ramche
Day 9 : Ramche to Trongten
Day 10 : Trongten to Sherpagaun
Day 11 : Sherpagaun to Phumpe Danda
Day 12 : Phumpe Danda to Kadebhanjyang
Day 13 : Kandebhanjyang to Lali Kharka
Day 14 : Lali Kharka to Suketar
Day 18 : Suketar to Kathmandu
Day 19 : Final departure
Kanchenjunga Trekking Map: