Hiking on a Trail to Upper Dolpa
November 6, 2017 admin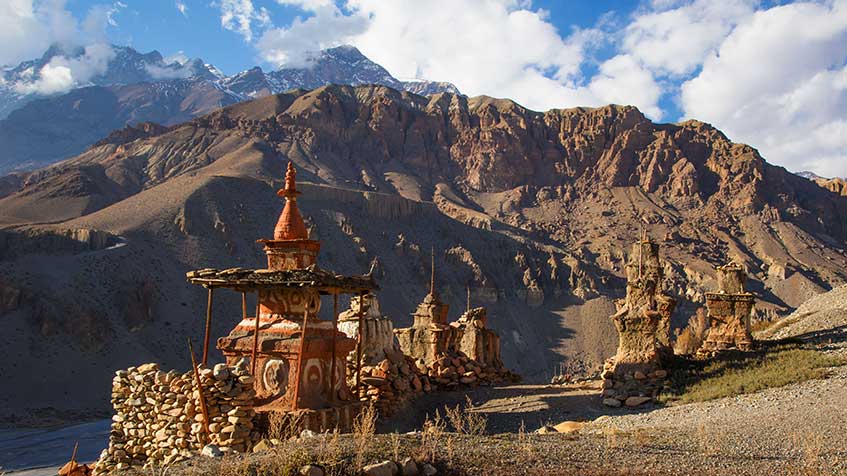 Have you ever felt a sudden outburst to leave every little modern amenities and conveniences behind you and take a long arduous yet replenishing adventure into some of the world's least developed and rural regions? Then you may find yourself longing for Upper Dolpa region of Nepal. Even though it has not gained worldwide popularity among fellow trekkers and travel enthusiasts, the Dolpa region is still one of the most bizarre yet awe-inspiring places to take your breath away. But to those who decide on embarking on a journey to this spectacular trek destination will find and receive more than they had initially wished for.
To start, trekking on a trail to Upper Dolpa region will be a one of a kind experience for most of the trekkers as they hike up and down through a barren, arid yet dramatic landscapes. Just a simple walk here can help you travel further to a place where only a few have ventured till now. Both historically and culturally, the Dolpa region has remained isolated from the outside world for decades. And for this reason, the natural trails are unscathed and unadulterated unlike other trekking routes of Nepal where modern human encroachment has begun to deteriorate the environment and ecosystem. Hence, many travelers are searching for some new destinations where they can travel undisturbed without any disturbance.
Initially, the trekking to this part of Nepal begins with a flight to Nepalgunj and then taking another flight to Jumla town from there. Yes, as you can see, in order to just reach the starting point of your trek, you will need to make two air bound flights which takes you away from Kathmandu. Leaving Jumla, travelers will slowly a natural, beautiful trail that seemingly gets more stunning with the steps you take. You will traverse through small but several village settlements and meet heartwarming affectionate Dolpo people who have been living in this part of Nepal since epochs. With that, you will also get to taste the local delicacies made by the locals themselves. And that my friend will be a remarkable moment in itself.
Rekindling our hopes with a bright sun across the Himalayan sky, we shall retain our inner adventure spirit and follow a sparsely vegetated land terrain that is very different to another trekking region of Nepal. More so, the Dolpo region looks more like a part of northern Tibetan plateau as there are numerous similarities between these two regions. Blocked by the gigantic Himalayas, the monsoon clouds don't get to enter this region due to which many trekkers who want to enjoy trekking in Nepal, even during the monsoon season can simply visit Dolpo region. So, if you ask me then I will redeem it as a great opportunity for travel enthusiasts who love traveling in an off the beaten path trek trail.
At present, travelers only occasionally visit Dolpa region but that is due to its remoteness and lack of modern infrastructures. This may be bad for some as they might not prefer spending weeks on a place where there is no means of communication, health facilities or transportation facilities. But if you can leave those things aside then you will come to discover that Upper Dolpo is a very magical place where rich culture, jaw-dropping natural scenery, friendly local communities and exotic traditional norms give you a surreal out of the ordinary trekking experience in Nepal.
Considering these things, foreign travelers are bound to get tired of the present popular trekking destinations soon and notice Dolpa region as a worthwhile trekking destination for future travels.