Ghorepani Poonhill Trek Experience
December 1, 2016 admin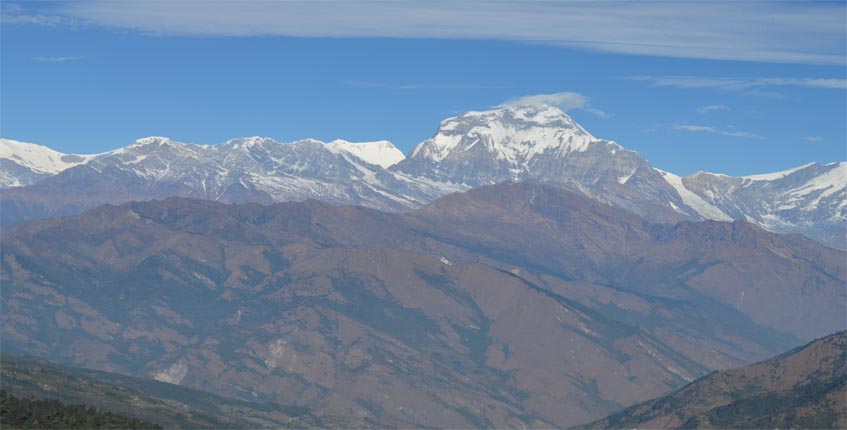 Life is beautiful. Yes, it is! A beautiful life is a sum total of beautiful moments. The moment that subtly penetrates our heart and leaves  a deep impression of the event which ultimately uplifts the spirit to a new level.
Ghorepani Poonhill Trek also known as Poonhill Trekking is one of the memorable experiences of my life which I recount on and often. I run out of words while explaining its grandeur, its beauty. But, in short, I must have to say that the site itself is at the crest of its teen.
The first morning rays of the  sun striking Annapurna and Dhaulagiri mountains give birth to different positive types of feelings within. The golden mountains, thus seen, connected me with nature unfolding the intrinsic qualities in me—love, peace and silence.
Witnessing towering mountains at the background of blooming rhododendrons simply filled my heart with happiness and joy. It was the time when I regained my childhood days dropping all the burdens of my life instantly. I felt I was liberated.
The views realised from the vantage point of Poon Hill were momentarily ecstatic, if not enlighten. It is a destination where beauty defines life and life starts seeking its depth and meaning in unburdened soul. In my opinion, Ghorepani Poonhill Trek is the first step of mindfulness journey through the path of natural beauty.
Thank you so much Luxury Holiday Trek for making my journey just awesome. Next time sure for Ghorepani Ghandruk Trekking…!!