Annapurna Base Camp and Scenic Sanctuary Trek
January 4, 2018 admin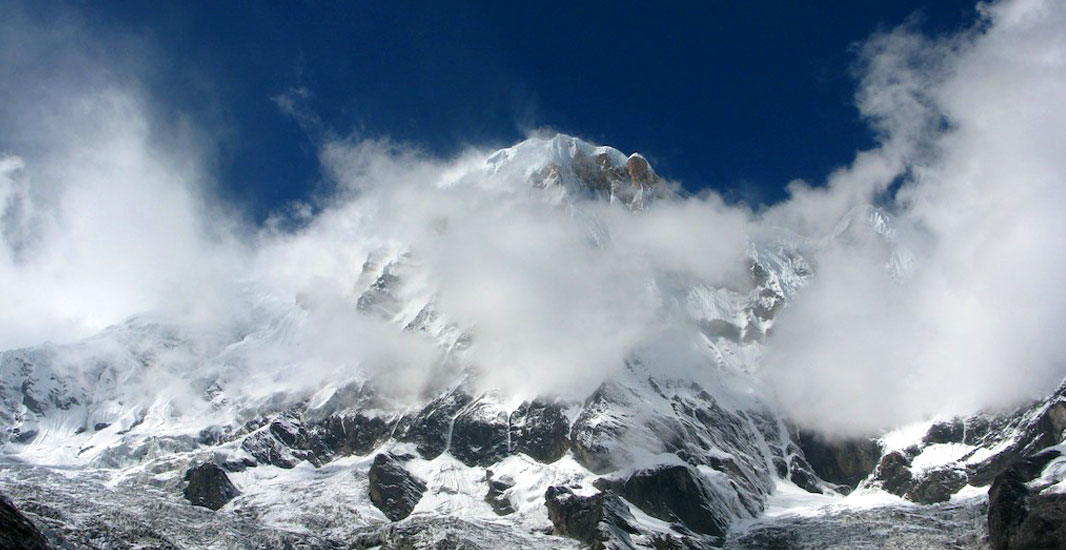 'moderate to adventurous walks in the heart of massive and towering Annapurna Himalaya'
Annapurna base camp and scenic sanctuary trek leads you to unforgettable memories within amphitheatre of peaks that surrounds you at base camp and within picturesque Annapurna sanctuary.
One of the fascinating adventure of short duration times where you can soak into glamorous scenery of giant and series of peaks, this beautiful area was first explored and pioneered by British adventurer Col. James O.M. 'Jimmy' Roberts in early 1956 since then exposed to the world as 'Sanctuary of Gods and Mountain Spirits' as "Annapurna Sanctuary".
On this marvelous Annapurna Base Camp and scenic sanctuary trek leads you at the height of 4,130 m and 13,629 ft at Annapurna Base Camp, the highest spot of the adventure within a time frame of week duration, where journey leads from moderate to adventurous walks gaining elevation gradually without a problem catching high altitude sickness or AMS (Acute Mountain Sickness).
Certainly a wonderful walking journey suitable to all types of people with no age bar on this scenic walk into Annapurna base camp and sanctuary in the midst of world tenth highest
Mt. Annapurna which towers above 8,091 m and 26,545 ft high first summated by French expedition in June 3rd, 1950 led by late veteran  mountaineer M. Herzog, the first 8,000 m mountains ever to be climbed even before Mt. Everest was conquered by Tenzing and Hillary in 1953.
The one and only adventure which leads you from low warm paddy fields, orange and other citric fruits growing areas within Pokhara suburb, and then entering into cooler alpine zone on high rolling green hills covered within lovely woodland of tall rhododendron-magnolia-pines and fir trees.
As journey progress walking past many Gurung people traditional farm village, a Hill tribe of Annapurna region with daily views of snow capped peaks of Annapurna Himalaya with magnificent Machhapuchare Himal 'Fish Tail' then entering into a deep Modi River gorge and following the raging river upstream right up to its glacial source at Annapurna base camp.
Enjoy the marvelous panorama of high snow peaks that surrounds you in the comfort of nice and cozy local lodge, Annapurna base camp the one and only base camp having a facility of lodge right in the heart of world highest mountains.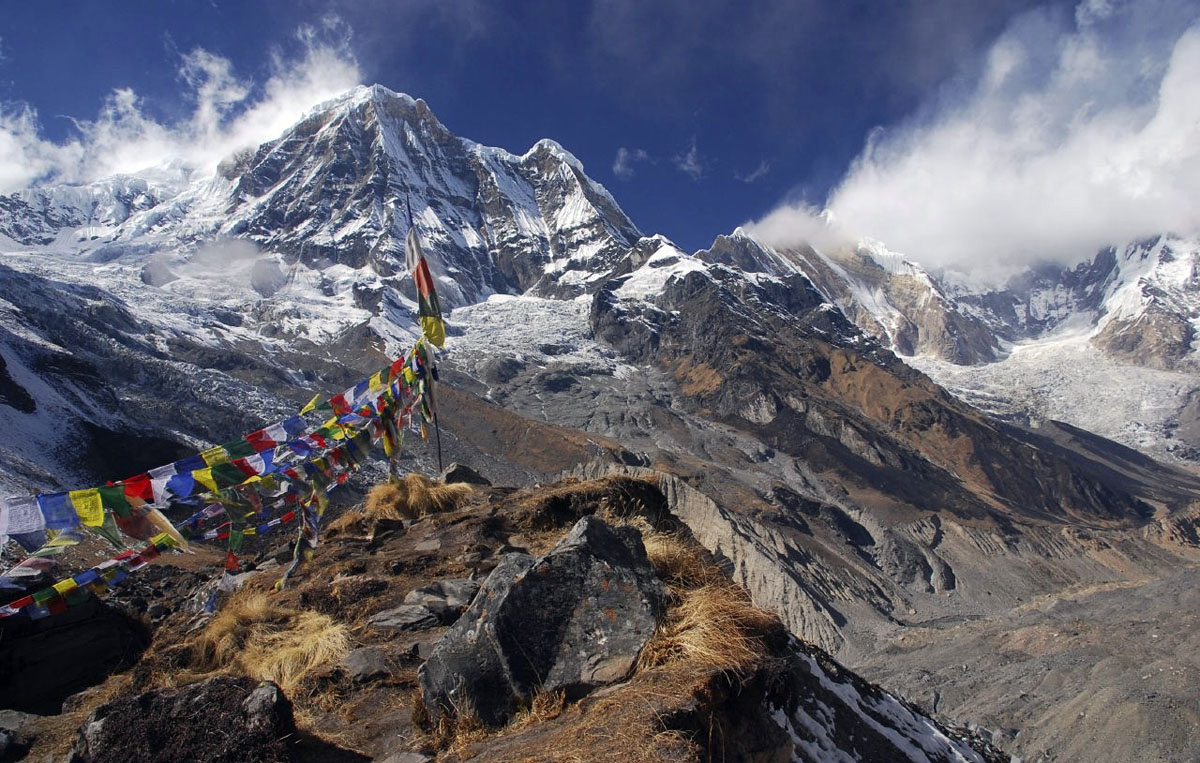 Annapurna Base Camp and scenic sanctuary trek rewards you with views of  Annapurna I (8,091m / 26,545ft) Annapurna South (7,219m-23,693ft), Gangapurna (7,455m-24,457ft) and Annapurna III (7,555m-24,787ft), including to Mt. Machhapuchare (Fish-tail) at 6,793 m stretches up towards Tent Peak / Tharpu Chuli and Fluted Peaks or Singu Chuli.
After a wonderful time heading back to scenic and famous touristic spot Pokhara city, blessed with Mountains-green valley-rolling hills and serene lakes of Phewa and Begnas where it catches reflection of Annapurna peaks on its calm waters.
Route to Annapurna Base Camp and Scenic Sanctuary Trek: 
There are few possible routes to reach at Annapurna base camp or Annapurna sanctuary depending upon your holiday time and duration in Nepal, where all treks to Annapurna begins and ends at beautiful Pokhara.
The shortest is of a week duration heading straight to Annapurna base camp taking a local drive to furthest end of motorable road, and then trekking to and from the road head and drive back.
The other scenic walks through Ghorepani and Poon Hill where you can view stunning sunrise views over chain of peaks within Mid Western Himalaya include Dhaulagiri-Annapurna and Manaslu range of mountains.
On this walking route taking little more of a week completing in 9-10 days taking your time to enjoy the views and witness local mountain village culture and custom.
To make the trip much shorter can take a morning short flight to Pokhara from Kathmandu and then taking jeep ride and start walking from beyond Pokhara, and catch the drive back with flight back to Kathmandu.
Annapurna Base Camp Trekking Season:
Nearly all seasons of the year one can trek except the monsoon (wet months) of July and August, March to May when wild flowers like rhododendron (Nepal national flower) in full bloom, with morning clear and warm and afternoon can be clouded for the views.
October to January when days are clear with views, morning and evening can be cold with chances of snow in higher region above 2,300 m high elevation.
Necessary permits and Conservation Fees:   
TIMS (Trekking Information Management System) required for trek to Annapurna base camp and in all treks in Nepal Himalaya, within Annapurna region where ACAP (Annapurna Conservation Area Project) fees must obtain from Kathmandu or on route before entering the ACAP zone.